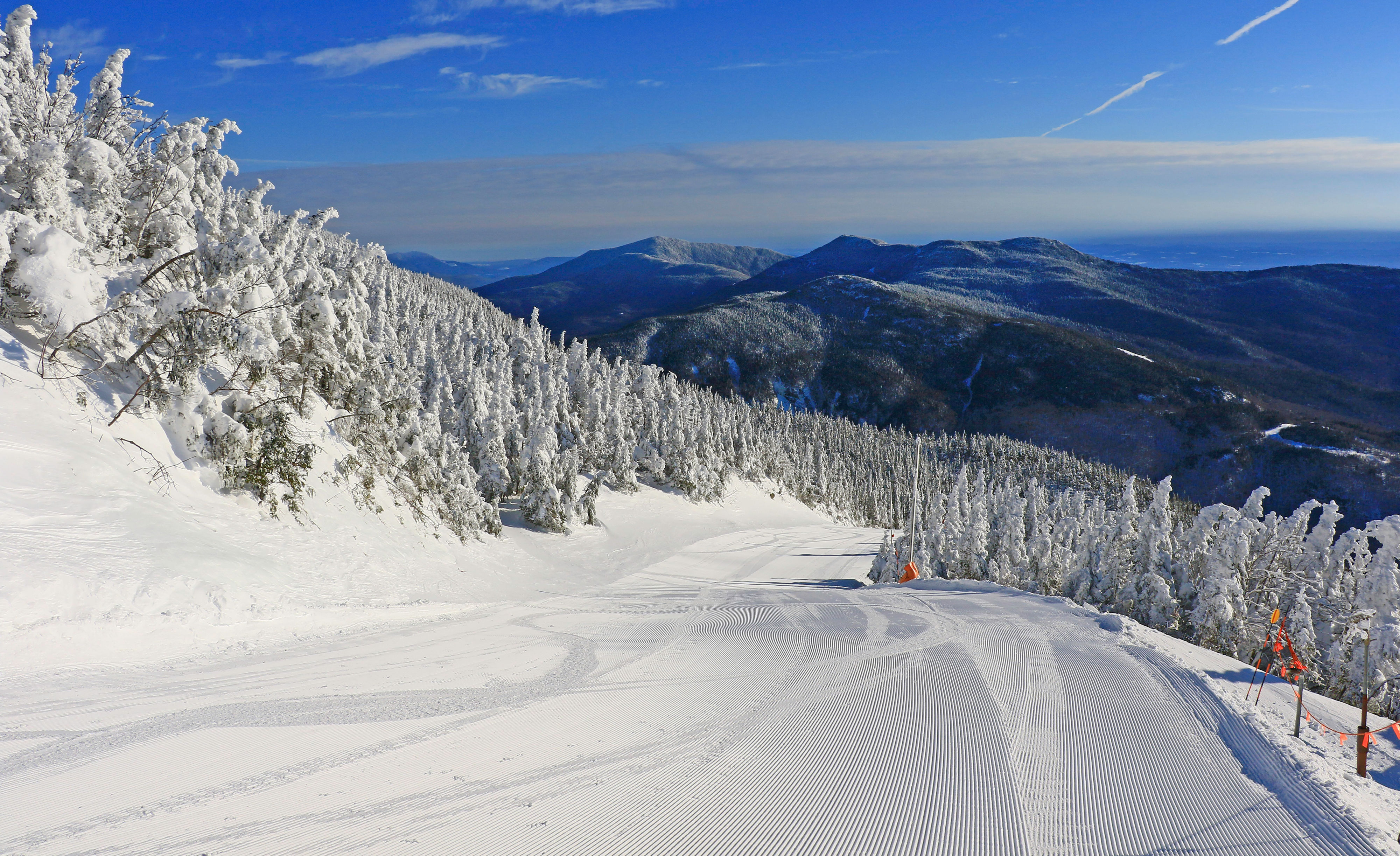 There's something about fat biking across the snowy Vermont landscape that brings back the joy you felt as a kid when you rode your first two-wheeler. "Fat bikes" are named for their big, Tonka Truck-like knobby tires, and they are designed to roll over anything. When the snow conditions are right, riding a fat bike can make you feel like a superhero on wheels: the knobby tires grip the snow, the surface is buffed smooth, and you can fly over terrain that might be rooted and bumpy in the summer.

Stowe may be best known for its ski mountain and trails, but more and more people are coming to this part of Vermont to bike. Mountain biking has taken Vermont by storm with the Vermont Mountain Bike Association now boasting more than 28 chapters and more than 9,000 members.


Stowe, VT, Fat Biking Trails
Come winter, many of the trail networks that cater to mountain bikes in the summer are groomed for fat bike riding. And you do need groomed trails to ride, or trails that are packed down such as the Stowe Recreation Path or the Smuggler's Notch Road that's closed to cars in the winter and packed with hikers and skiers.
"In the early years many riders didn't want to deal with the very challenging conditions that were the norm at that time," says Bill Flack, a veteran fat bike rider from Hinesburg, Vt. "Then grooming started to happen and it changed everything."
Early grooming efforts on Vermont trails would often be as simple as
snowshoeing the trails
to flatten and pack the surface as firmly as possible. Stowe's
Ranch Camp
, a bike and burrito shop still offers free snowshoe demos to anyone who wants to track out the Cady Hill trails behind the shop. Groomers would also sometimes pull a car tire or a weighted sled to help prep the trail surface, and that's still how many trails are being managed.  "It's a Herculean effort to be sure but it can yield good results, until the next storm hits ... then you have to begin again," says Flack. However, more and more trail networks are also investing in Snowdog grooming machines, which can take several passes to get a trail buffed out.
"Grooming is a bit of an art-form," Flack says. "We're lucky in this state to have a few masters like Mark Berardo at Saxon Hill's trails in Essex Junction and Hank Glowiak (owner of Chuck's Bikes) and his crew in Morrisville who have laid down a track on the Cady's Falls trails that's as close to perfection as it gets, sometimes with built-in features like berms and jumps."
Fat Bike Rentals
In Stowe, you can rent fat bikes at many of the outdoor retailers up and down Route 108, the Mountain Road, such as MountainOps, AJ's Ski & Sports and Ranch Camp. When you are renting a bike, be sure to check in with the shop to see what trails are open to fat bikes as conditions and grooming vary from day to day.
Stowe Trails Partnership
As the local mountain bike club, Stowe Trails Partnership advises: "Just because a trail is open during the winter does not mean that fat biking is permitted there, so please be an ambassador for your sport and be respectful of any restrictions. Ducking ropes and dodging signs is not a good look, and ultimately can jeopardize our access to the trails we all enjoy."

A few more things the club asks riders to be mindful of:
Be sure to use a bike with larger 3.8" fat bike tires as opposed to regular 2.5" tires, which can cause ruts.
Pay attention to tire pressure. Tire pressure should often be well under 10 PSI to allow you to float over the snow, rather than sink into it.
Ride on the packed and firmest part of the track (with the exception of tracks groomed for classic skiing when present).
Avoid riding during warmer weather, especially if your tires are sinking in and leaving a rut deeper than 1″.
Be aware of snowmobiles. In many of the places you might encounter them, they have the right of way.   
The club also recommends places where you usually can ride, such as Stowe's Recreation Path; Edson Hill, which has motorized grooming; Cotton Brook; Callagy's Trail and Split Rock in Sterling Forest; Cady Hill Forest, the extensive single-track network in the heart of Stowe; as well as other VAST snowmobile trails on state forest land. Visit the Stowe Trails Partnership website for trail maps. For those who are looking for more extensive networks and are willing to drive, Kingdom Trails in East Burke grooms many of its trails for fat biking. It also plays host to WinterBike, a weekend of all things fat biking, which happens in late February or early March.


Stowe Fat Bike Events
Each winter, some of the people behind Ranch Camp, Mountain Bike Vermont and WinterBike also bring a fat bike festival to Stowe. Typically held in early January,
Überwintern
is described as "a day of fat bike revelry on powder-packed single track for those souls brave enough to keep charging on two wheels through the depths of winter." The one-day festival offers group rides, demos and a post-ride party around a warm outdoor fire.
For those riders who are feeling sure of themselves, the
Stowe Derby
– the legendary
cross-country ski
race from the top of the Toll Road on Mt. Mansfield into the village of Stowe – now has a fat bike division as well. But for most, the fun of fat biking is just rolling through the winter landscape.
Produced in partnership with Vermont Ski + Ride Magazine.