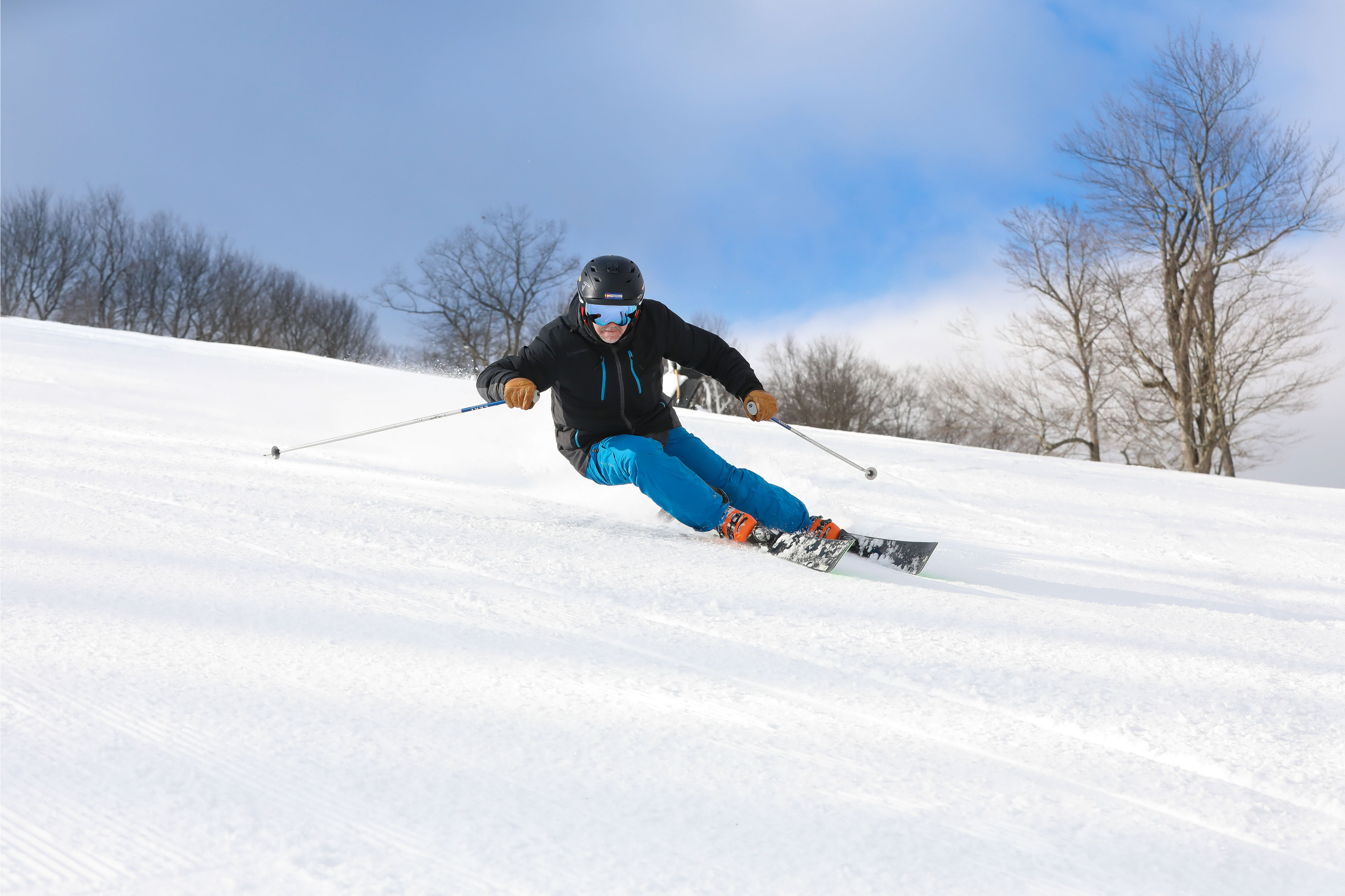 A good boot will help you
ski better
. But a boot that doesn't fit well? That can cause all sorts of problems. Fortunately,
Stowe has plenty of shops
for ski gear and apparel, including some of the best bootfitters in the East.
"As a ski instructor, I often hear skiers' say their feet are cold, their bunions hurt, or they are losing toenails," says Doug Stewart, who has been teaching
ski lessons at Stowe Mountain Resort
for nearly two decades. "But all of these problems can be solved, especially with the help of a good bootfitter."
Stewart holds one of the highest ranks in ski instructing: He's a PSIA Examiner (meaning someone who tests other instructors). He also worked as a Masterfit-certified bootfitter at Skirack in Burlington for nearly 20 years.
"It's hard to ski well if your boots – the things that connect you to the skis – don't fit right and you don't have good edge-to-edge feel," he says.
Start With a Custom Footbed
A proper footbed or orthotic in your ski boot not only will help position you better, but also will help reduce foot pain, fatigue or cramping. "A very small percentage of skiers and riders understand the difference between the stock insole that comes with a boot when you buy it and a functional footbed," says Stewart.
Some people can get away with an off-the-shelf model but a footbed that's molded to your foot will help improve both your comfort and skiing performance. "Almost every serious slider should have some type of footbed," says Stewart.
Custom footbeds are not cheap: Many can cost upward of $200. But often shops will offer a discount if you buy the boots there as well.
It's best to get your boot fitted and custom insole made in a ski town so you can get adjustments made, try the boot out the next day and return to have any tweaks made. In Stowe, Stewart recommends
Inner Bootworks
on the Mountain Road or the specialists at
Race Stock Sports
in Waterbury Center.
"A good footbed will help your stance, your alignment and, in short you will ski better," says Alison Kozar, a Masterfit bootfitter with Stowe's Inner Bootworks. "Every foot is different and a footbed will account for a high or low arch and all the other variations in each person's foot," she says. At Inner Bootworks, many of our bootfitters are also certified pedorthists who have studied the biomechanics of feet.
"I've been skiing my whole life and recently had my boots canted and it made a magnitude of difference, and my old wobbly knee doesn't feel so wobbly anymore," Kozar says, referring to the process of adding plates to the soles of a boot to improve alignment. "We deal with a lot of advanced skiers, and I'd say 55 percent of the boots we sell we end up adding custom footbeds to," she says.
A Good Fit Can Solve Problems
If you already have a footbed but have other issues, a bootfitter can also make modifications to solve most problems.
Some are simple fixes, Stewart notes. "If your feet or toes are constantly cold —and you've already tried heated socks — you might want to have a bootfitter install boot heaters, such as those made by Hot Tronics," he says. A flat disc goes under your footbed to warm the soles of your feet. Tiny wires connect it to rechargeable batteries that can strap on the back of your boots with four settings to adjust the warmth. You might also find that if your boots are not fitting properly, your circulation is being cut off.
Another problem skiers often have is bunions, or bony knobs that pop up on your feet. Bunions are caused by wearing tight shoes, and ski boots can accentuate them and make them painful says Stewart. "If you are feeling excessive pressure or pain, a bootfitter can modify the liner of the boot for some space or even modify the hard shell of the boot," he explains.
Many people find their toenails turn black or fall off during the ski season. One cause is toe pressure. "There are two main causes of toe pressure: boots too long or boots too short," says Stewart. "Since 86 percent of all skiers are in a boot at least one size too big, I'll start with that one. When putting your foot in the shell of your ski boot, without the liner, there should only be a one- or two-finger width of room behind your heel when your toes are gently touching the front of the boot (about 1 or 1.5 cm of length)," he says.
"While you may be okay with a little more room, if there is ever more than 2.5 cm of room, then your boot is too long. When a boot is too long, you can generate "ramming speed" as your toes hit the end of the boot," he notes. Which is why most shops will encourage you to opt for a new boot that fits tight — boots can be stretched or expanded, but it's hard to fill space.
Bootfitters Near Stowe, VT
Race Stock Sports in Waterbury has worked with some of the top racers in the East and does bootfitting by appointment only. They have also taken on some bootfitting challenges, working with people who have disabilities or hard-to-fit feet.
Another option for those skiing Stowe Mountain Resort is to work with Williston-based
Dodge Ski Boots
. Stowe skier and former racer David Dodge and his partner Bill Doble created the first line of carbon-fiber boots. The high-performance boots are not sold in shops but come with a fit app that allows you to take measurements of your feet and send them to Dodge. The shop will then make the boots and custom fit them to your feet at no additional charge.
"The advantages of carbon boots are that they are light, stiff and warm and they don't change shape with varying temperatures," says Dodge.
No matter what boot you buy, make sure it fits well — and getting a professional bootfitter to work on it will only improve your skiing.
Produced in partnership with Vermont Ski + Ride Magazine.