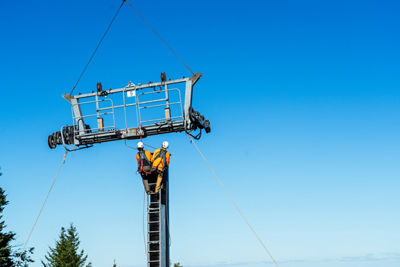 By Andy DeBrunner

Seasonal jobs offer a fun, exciting way to spend your days with countless options that change along with your wardrobe.

When it comes to finding an awesome seasonal job, we know a thing or two at Vail Resorts. If you've ever thought about a job on the snow or you're just looking for a change of pace, we've compiled a list of a few of our favorite seasonal jobs at our resorts that will have you begging for snow.

Snowmaker

If you've ever wanted to wield the power of Mother Nature but not go through some sort of X-Men mutant accident to acquire it, then THIS is the seasonal job for you. Snowmakers are absolutely essential to the success and growth of the ski industry and hold the keys to making the guest experience as memorable as possible. There's a reason you see the #ThankaSnowmaker hashtag a lot during the season. Snowmakers get to learn the art and science of snowmaking, get to spend time outdoors and have the satisfaction of a day's hard work realized with a beautiful whaleback of snow, ready for the groomers to do their thing.

What's snowmaking all about? Get an insider's look at what it takes at Stowe.

Lift Operator

Lift Operators, or "Liftees" as they're affectionately known in the industry, have more interactions with Vail Resorts' guests than nearly anyone else, which makes this seasonal job perfect for anyone who likes putting smiles on people's faces. The lift operator can quietly turn someone's average day into an experience of a lifetime simply by offering a friendly face and excellent service. This impact can be especially great for beginners, as the chairlift is the first step for new skiers to tackle their first big challenge. The lift operator can ensure that those early experiences keep them coming back.

Meet a lifteee: Get to know why Deirdre loves the Liftee life.

Ski School Instructor

If you are an expert skier and love interacting with people and sharing your knowledge to help people grow, learn and improve their skills, becoming a PSIA/AASI certified instructor might just be the perfect seasonal job for you. Becoming a ski and ride school instructor can be an incredibly rewarding way to spend your time on the mountain and allow you to rack up some serious time on the snow. From introducing groups of beginners to the sport and showing them what makes skiing and snowboarding so special, to spending a whole day working with an intermediate skier and watching their confidence explode when tackling those intimidating mogul fields, no two days are alike. At Vail, there are ski and ride school instructor opportunities available for certified, non-certified and even high school instructors.

Meet a ski school instructor: Take a look at why Chris loves being a ski instructor. For those expert skiers with a desire to help those in need, Ski Patrol may be a fantastic option for you.

Cool job opp: Okemo is hiring an Entry Ski or Snowboard Instructor with Paid Training! Learn more here.

Maintenance

We admit it, some of the best skiing in the world can be found on the peaks of mountains in far flung areas where lift access is but a dream. But unless you want to travel uphill under your own power for every run, your favorite skiing spot takes a lot of upkeep. Mechanically inclined experts are required in all facets of the ski industry including lift maintenance, vehicle maintenance (you know that sno-cats can't repair themselves right?), building maintenance and everything in between. If you like getting your hands dirty, making things go and solving sometimes seemingly impossible problems, then a seasonal job in maintenance could be an ideal fit for you.

Lift Maintenance spotlight: At just 19, Hunter Mountain's own Brady Pickett was nominated by Ski Area Magazine's Rise Up Challenge, which aims to recognize the next generation of skilled men and women who will keep ski area lifts spinning for decades to come. Check out his video entry to see what sets him, and the Hunter team, apart.

More of an indoor type? There's something on-resort for you too!

Of course there are plenty of other winter seasonal jobs to consider and don't require time out on the snow or turning a wrench:
Food and beverage: If you've always enjoyed working in the food and beverage industry or think it might be something you want to try, resorts, bars, restaurants and nearby lodging often have openings in this category to service the needs of thousands of hungry skiers! Find open jobs at Stowe.
Hotel operations: Hotels offer plenty of varied positions that you may not have even considered part of winter seasonal roles. Housekeeping, maintenance, front desk, host/hostess, even spa tech are all great ways to help create epic experiences for guests. Sound like a fit? Find opportunities at Okemo.
Ski/Board Shop: Most ski resorts have onsite shops, which can be an amazing place to be if you're a snow sports gear junkie. Most shops offer great discounts and access to the latest tech, which is a huge perk if you like turning heads with your own gear on the mountain. Check here for open retail roles at Mount Snow.
As a native Northeast skier, Andy grew up hitting the trails of PA, VT and NH. While he enjoys hitting steeps (and telling himself he'll do the moguls "next time") he really fell in love with the long, meandering greens and blues that provide a peaceful glide through snowy wooded terrain. These days, in-season you can find him hitting the slopes at Roundtop in PA and enjoying the unique tailgate culture that springs up in the parking lot every weekend.