Surrounding Stowe Mountain Resort and Spruce Peak is a network of hiking and walking trails that will stimulate the most avid thrill-seeker or calm the most ardent nature-lover. Escape to our Green Mountain landscape to invigorate your sense of adventure and to instill memories of a lifetime.
Green Mountain Day Hikes: Green Mountain Day Hikes: A myriad of celebrated Vermont day hikes depart from our base area or nearby. Sterling Pond Trail, Haselton Trail, the Mansfield ridgeline from atop the Toll Road, and the Cliff Trail from the top of the Mansfield Gondola offer a range of experiences for every ability level.

Spruce Peak Community Pathways: Miles of gravel pathways wind around the village at Spruce Peak over timber bridges, rough-hewn stairways, and along railings over ravines. The pathways are smooth and accessible, but pass into quiet mountain forests under a canopy of spruce, hardwoods, and hemlocks; far from the buzz of city and town.

The Long Trail: The oldest long-distance footpath in America climbs Mount Mansfield, Vermont's highest peak, located just minutes from the base area at Stowe Mountain Resort. Sometimes steep, sometimes rocky, the Long Trail features hiking cabins, airy overlooks, and leads hikers to the alpine zone atop Mansfield with views of Lake Champlain, the White Mountains, and the Adirondacks.
*Warning* The Cliff Trail is an advanced, strenuous trail! This trail follows a very steep and exposed route that requires some climbing on iron rungs and across rock gaps. Hike at your own risk. Experienced hikers should comply with the following:
Stay on marked trail
Pay attention to the weather and time of day to avoid hiking in dark or wet conditions
Wear sturdy hiking shoes
For more information about hiking in and around the resort, visit the Green Mountain Club's
Barnes Camp Visitor Center
, conveniently located on Route 108 just past the main entrance to Stowe Mountain Resort. This historic building is a great gateway to learn about Smuggler's Notch and is typically staffed on weekends in Summer and Fall.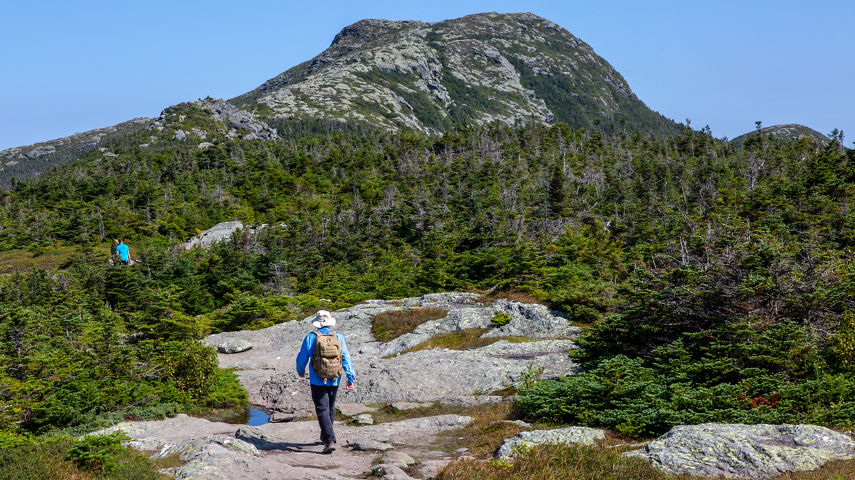 Fragile Alpine Zone
The summit of Mount Mansfield reaches 4,395 feet and is one of the few places in Vermont that is home to a unique alpine tundra zone. Follow these steps to protect the rare, fragile, and endangered vegetation.
Walk only on rocks.
No camping or woodfires.
Please leash dogs.