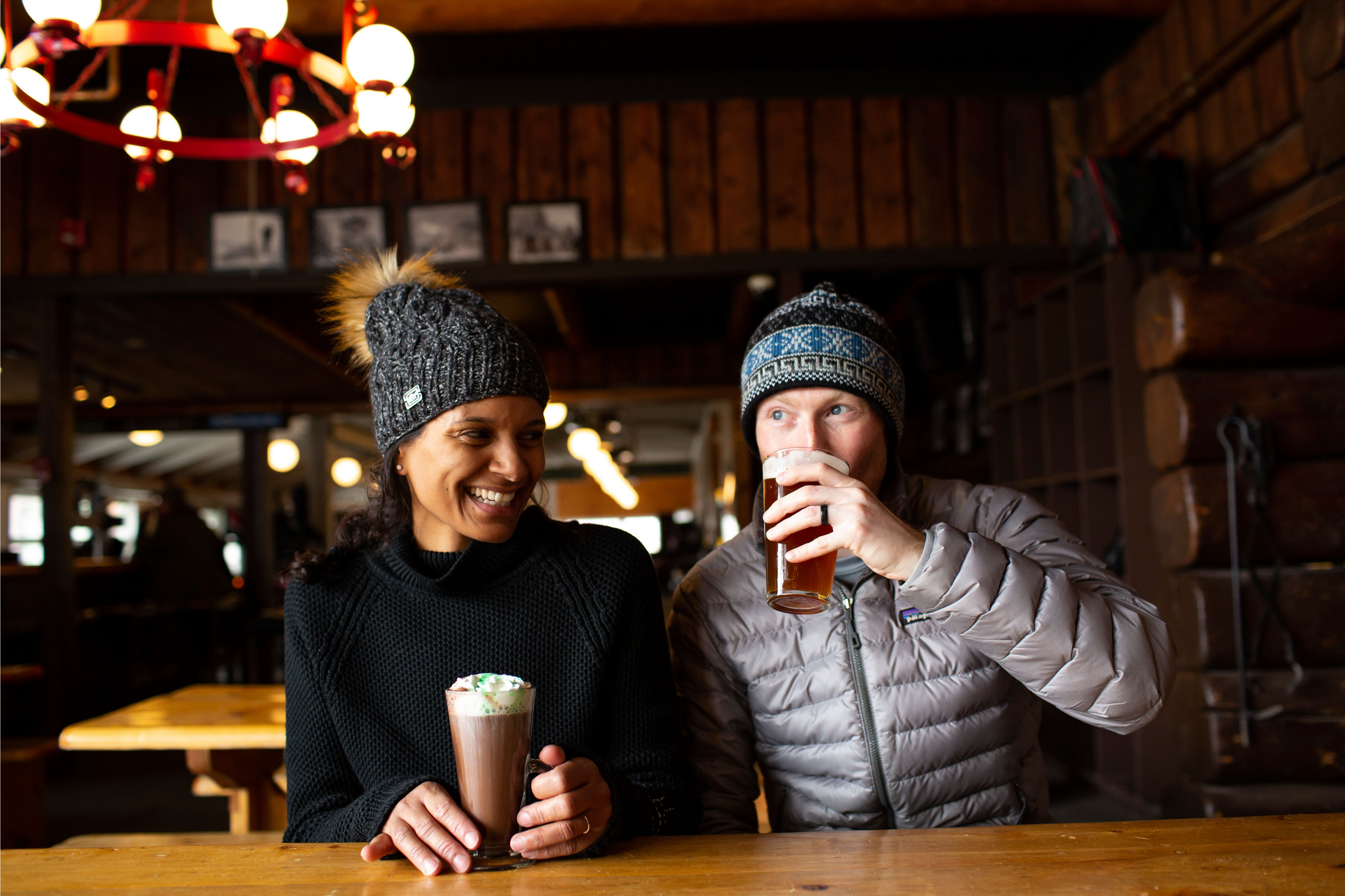 Few things can cap off a day of skiing Vermont's mountains better than raising a glass with friends. Après-ski is more than just the French term for "happy hour." It's a lifestyle unto itself, a moment when everyone comes off the mountain, tired, smiling and ready to quench their thirst and share stories.

Stowe is legendary for its après-ski scene. It's a time when locals and visitors, lift operators and hedge fund managers mix. No one seems to care what you do for work: It's all about how hard you played that day on the mountain.

In most places in town, it's easy to strike up a conversation with the next table over and countless couples will tell you they met at The Matterhorn or one of Stowe's other watering holes. Take off your ski boots, but don't bother to go home and get changed: Ski pants and sweaters are the norm here. Here are a few of Stowe's enduring favorite spots for après-ski.
Best Whiskey Bar: WhistlePig Pavilion
Just steps from the slopes of
Spruce Peak
, the
WhistlePig Pavilion
looks out at the
skating rink
. You can reserve one of the heated outdoor pergolas by the skating rink or head inside where wheels of raclette cheese are baked in a huge stone fireplace until the surface melts. The melted cheese is then served in a variety of dishes, including raclette nachos. WhistlePig whiskey is made in a farmhouse distillery in Addison County, Vermont, and the bar at the Pavilion serves as a tasting room for its award-winning aged ryes and bourbons. On Saturdays, there's live music so sit down inside at one of the long wooden picnic tables, try the venison chili and sip your cocktails or hot mulled wine.
Best Après-Ski Bar: The Matterhorn
There are a handful of après-ski bars that are known around the world.
The Matterhorn
is one of them. After skiing
Stowe Mountain Resort
, it's the first bar on your way down the Mountain Road, and it sometimes feels as if everyone has stopped there. The one-story wooden building has been serving skiers since the 1950s. Inside, you'll find several generations: kids playing the arcade games in the back, their parents dancing to the live bands that play most weekends from mid-afternoon well into the night and an older crowd enjoying surprisingly good sushi and martinis in the West Branch patio bar that looks out at the roaring river. Over the long bar hang rows of beer mugs, reserved for ski instructors, many of whom stop in for a beer when the day is done. Owner Charlie Shaffer and his wife Louise are often there surveying the crowd and keeping the band members happy. Among some of the acts that have played there: the Monkees, members of The Grateful Dead and Grace Potter and the Nocturnals.
Best Post-Ski Pizza: Piecasso
If you worked up an appetite skiing Stowe all day,
Piecasso
is the quick fix. It's known for its Sicilian-style artisan pizzas and one of the best meal deals in town: Two slices and a soda are $6.24, all day, every day. Pizzas range from a suite of vegetarian options such as the Pesto Delight, which comes topped with breaded eggplant, to Buffalo Chicken. The back room has banquettes that get packed with families on a busy weekend while the bar area and outside fire-pit seating is more of a singles' scene and often features live music on weekends.
Best Beer & Burger Bar: Doc Ponds
Legend has it that in an 1876 court case "The State of Vermont vs. One Keg of Lager Beer," a Dr. E.A. Pond testified on behalf of the beer. The beer won. That's how
Doc Ponds
got its name. The hip Mountain Road bar was started by Eric Warnstedt, the James Beard Award-nominated chef behind the acclaimed Hen of the Wood restaurants in Waterbury and Burlington. Doc Ponds is a tribute to several of his favorite things: great
craft beer
, locally sourced food and vinyl records. Doc Ponds' beer menu is one of the best in the state and offers a wide variety of specialty craft beers that are often hard to find. The food is elevated pub fare: think smoked bluefish dip and pork belly served with husk berry jam for starters and burgers and bratwurst for entrees. The beer is excellent, but what about the vinyl? There are over 1,000 records, and you can follow Doc Ponds' playlists on Spotify.
Best Local Hangout: Backyard
Located in a back alley off Mountain Road, just behind the mountain bike trails of Cady Hill,
the Backyard
was long one of Stowe's most beloved dive bars — a place where locals sometimes hid out from the crowds of tourists, the beer flowed fast and the conversation was loud. In November 2020, the bar was bought by the hard-charging mountain bikers and snowboarders who own Ranch Camp, the bike shop and bar just next door. The Backyard got the best kind of makeover. The vibe is still loud and fun. The new bike-inspired décor is cool, and the pub food has all of the carbs you crave but with a fresh twist. Try the duck wontons or the fried black bean ravioli. The clientele is a true mix these days, but locals still call it the "yaaahd."
Best Wine Bar: Cork
What Doc Ponds is to beer,
Cork
is to wine. Owner Danielle Nichols grew up
ski racing in Stowe
and after coaching racing around the world, returned to Stowe and opened Cork on a side street in Stowe Village. The stylish space is part wine shop and features a good selection of natural and raw wines. The restaurant has a lounge area, a bar and a few tables where you can order from a short but creative menu that features dishes such as roasted beets with a horseradish crème fraiche or spiced pork tenderloin with apricot onion jam. It's a mellower, more 'adult' après-scene than some of the other spots but after a few glasses of wine, it gets lively.
Produced in partnership with Vermont Ski + Ride Magazine.