To confirm operational hours, please call 802.253.3000
Dining.
We look forward to welcoming you back to our restaurants this season! Stowe is commitment to safety continues to be at the center of everything we do, so as we welcome guests from around the world this season, our COVID-19 policies are focused on the indoor experience at our resort. Before you head to one of our dining establishments, please read through updates to our safety and dining policies.
DINING AND VACCINATIONS
Guests ages 12 and over will be required to show proof of COVID-19 vaccinations to dine at our indoor, on-mountain quick-service (cafeteria-style) restaurants. Adults 18 and over should please be prepared to show photo ID. Government issued IDs with a photo and name matching the guest's vaccination card will be accepted, as well as Epic Passes with photos.
Guests can provide proof of vaccination by showing:
A physical vaccination card
A photo of a vaccination card on their phone *Recommended option for variable cell service.
An official vaccination mobile app, including all official U.S. state, European Union and foreign country mobile apps, digital passports and digital certificates; and the following third-party vaccination mobile apps: Clear Health Pass, IATA Travel Pass App, Verifly, VaxYes by Gogetdoc, and CommonPass
One-time validation available:
After the first validation of COVID-19 vaccination, guests may opt for a small, non-transferable sticker to be applied to the front of their pass. Guests with this sticker can re-enter indoor, cafeteria-style restaurants at any Vail Resorts property for the remainder of the season without re-validating their proof of vaccination at the door. Guests may also opt not to receive a sticker and instead to re-validate their proof of vaccination each time they enter indoor, cafeteria-style restaurants. Regardless, Vail Resorts will not be recording any guest vaccination status information.
The following vaccinations recognized by the World Health Organization will be accepted:
Moderna, Pfizer-BioNTech, Johnson & Johnson/Janssen, Oxford-AstraZeneca, Covishield, Sinopharm and Sinovac. This is currently the only part of our experience that will require proof of vaccination, unless required by local public health.
Stowe's quick-service restaurants that will require proof of vaccination include:
Mansfield Lodge Café & The Den
The Octagon
Spruce Camp Upper Level Dining & Spruce Camp Bar
Midway Café
DINING RESERVATIONS
Like last season, it is recommended that you book a reservation to warm-up and eat at many of our on-mountain restaurants using our reservation service. Walk-ins are welcome and will be served on a first-come, first served basis, subject to availability. Reservations will be open (at minimum) 6 days in advance via the Dining Reservation page, the EpicMix app or through QR codes located on-mountain. Please cancel your reservation if your plans change. Click here to learn more and make your reservations.
DINING POLICIES
We strive to provide a variety of dining options for all of our guests who wish to dine with us. In order to accommodate the high volume of customers our restaurants serve, we ask you to observe the following dining policies:
All tables and seats will be available for present guests only. We ask that guests please do not hold tables.
All tables have a time limit of 45 minutes.
There is no storage of personal belongings in our restaurants or lodges unless in a designated locker or cubby area.
Catering or communal food for large groups is not permitted. Individuals and small groups are permitted to bring in their own food at Midway and Mansfield Lodges only, not at Spruce Camp Lodge.
Holding multiple tables for large group dining and outside parties is not permitted.
Learn more about our COVID-19 safety dining protocols for the 2021-22 season here.
Book dining reservations at all of our locations and find out more including menus, hours of operations, and availability through our Time To Dine/Tock reservation platform by clicking below.
Learn More. For questions, please call 802.253.3000.
Category
Restaurants
On-Mountain Indoor Dining:
(Proof of vaccination required)
Base Area Indoor Dining:
(Proof of vaccination required)
Outdoor Dining + Grab-and-Go:
(NO proof of vaccination required)

Spruce Camp Grab-and-Go Window
The Waffle
NEW for 21/22: Maudite Poutine Food Truck
NEW for 21/22: Church Street Cheesesteaks Food Truck

Spruce Peak Partner Restaurants:
(Confirm policies in advance)

Igloo Après
The Pantry & Beanery
Whistlepig Pavilion
Whistlepig Pergolas
Miso Toh Kome Food Truck
NEW for 21/22: Alpine Hall
NEW for 21/22: Tipsy Trout
Hours of Operation
Opening and closing times may change throughout the season. For the most up to date information view our Hours of Operation page.
View Current Hours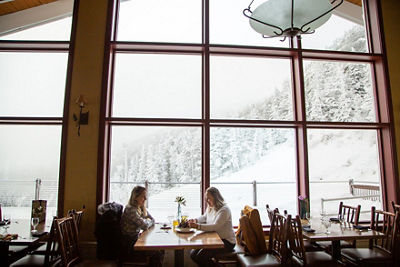 Cliff House Restaurant
Distinctively situated on the shoulder of Mount Mansfield, the Cliff House serves regional American cuisine with a rustic Vermont flair. The interior pays homage to the Austrian roots of the chalet with panoramic-view seating and floor-to-ceiling windows that frame the surrounding alpine peaks. Featuring an open kitchen where guests order at the bar, the Cliff House has a commitment to using the freshest seasonal and artisan ingredients can be tasted in every mouth-watering dish, and the tantalizing cocktails will complement any meal.
Cliff House is only accessible via the Mansfield Gondola and open solely for lunch. A valid season pass, day ticket, or scenic ticket is required for access. Please see the Gondola Sky Ride page for details.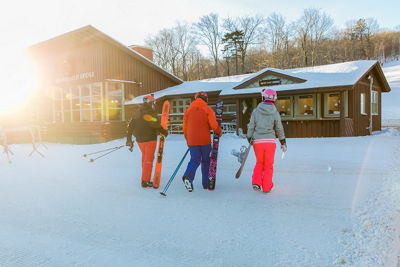 Mansfield Café & The Den
Enjoy casual fare to fuel up or take a quick lunch break in the Mansfield Base Lodge. The lunch menu offers hearty grill fare as well as soups & salads. The Den offers a full bar, local craft beers and wines by the glass - plus live music on Saturdays and holidays.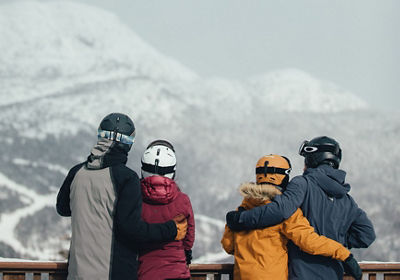 Octagon
Located at the top of the FourRunner Quad Lift. Greet your friends at the top of Vermont while you fuel up over coffee, a snack, lunch or a beer. Some of the most amazing views in Vermont await you at the Octagon.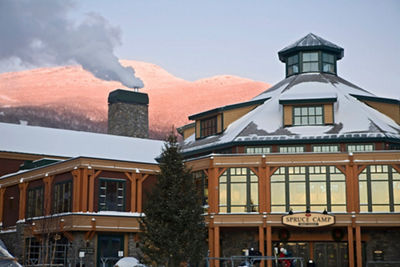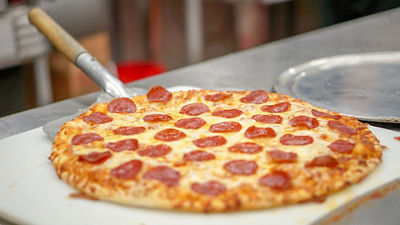 Midway Bar & Pizza
Opening soon.
Casual restaurant serving family-friendly classics like pasta, pizza, and chicken parmesan. Order at the counter and dine inside or out with a curated selection of beverages. All guests will be required to make a reservation prior to arrival via the tock system.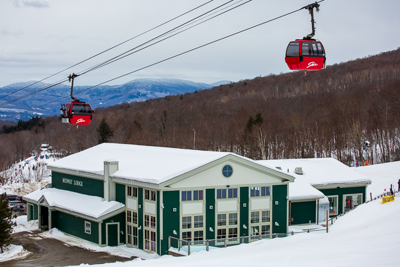 Midway Café
Opening soon.
Quick service pizza, salads, and sandwiches at a location convenient to the Mansfield Gondola. Warm up by the fire and refuel for your adventures.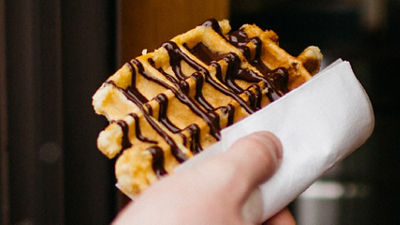 Indulge in a hot waffle - topped with your choice of maple syrup or chocolate sauce at the top of the Mansfield Gondola. The Waffle also has drinks and grab-and-go snacks.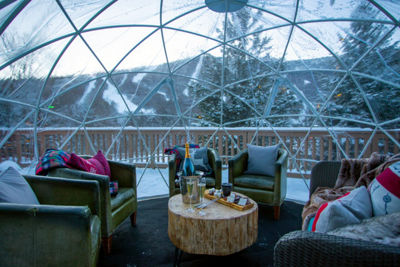 For an elevated private dinner option with unbeatable views from the pool deck of the Lodge at Spruce Peak. Outdoor terrace igloos available by reservation only.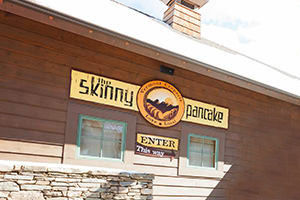 Located at Spruce Peak Village near the Over Easy Gondola. The Skinny Pancake serves crepes, fondue, craft beer, wine and cocktails and other locally inspired and sourced cuisine.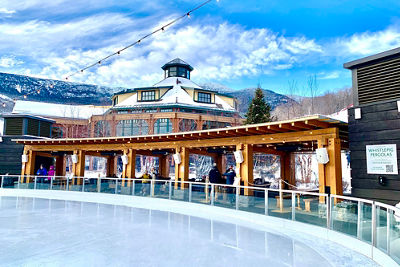 Warm up with a unique private, outdoor dining experience. The WhistlePig Pergolas sit opposite of the Pavilion, overlooking the slopes and the ice rink. Offering unique food offerings and beverage service, these heated pergolas are an après experience not to be missed.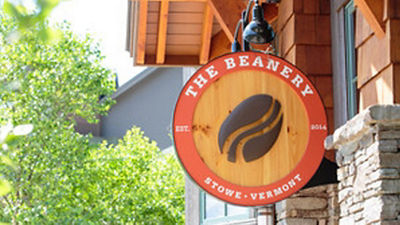 The Pantry & Beanery
The Pantry offers a variety of artisan foods, local products and ingredients, and an impressive selection of wine and beer. The Beanery is perfect for breakfast on the go, or a relaxing cup of hot or iced coffee all day long. Skip the line and order via Spruce Peak To Go.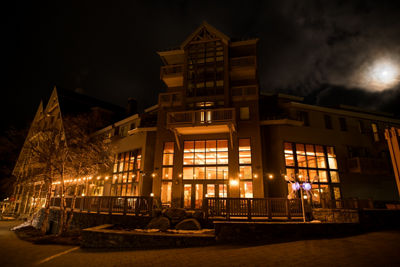 NEW for 21/22: Alpine Hall
Alpine Hall celebrates Vermont mountain culture by bringing the work of our region's best growers, farmers, makers and artisans to our family tables and grand bar. Chef Sean Blomgren has crafted a simple, yet highly elevated menu that combines the best ingredients and a hand-crafted ethos. Serving breakfast, lunch, après, and dinner.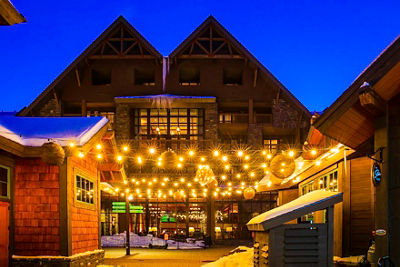 NEW for 21/22: Tipsy Trout
Tipsy Trout combines the region's premium seafood with an unmistakably Vermont culinary approach. Their energetic, cocktail-forward and seafood-rich experience features Vermont's best raw bar, shareable apps, coastal-inspired entrees, and a distinctive wine program. Saddle up at the bar and chat with their talented team of mixologists or settle in to a booth overlooking Mt. Mansfield. Serving from après raw bar through dinner and until late night sushi.
New for 21/22: Food Trucks
Church Street Cheesesteaks: Grab an open-air bite to eat in front of Midway Lodge from our friends at Church Street Cheesesteaks. Choose from classic, chicken, and portobello options - plus rotating specials.
Maudite Poutine: Look for one of our new food truck friends on Mount Mansfield near the stairs to the Over Easy Gondola. Serving locally sourced, expertly crafted, classic and creative poutine from scratch.
Miso Toh Kome: Authentic Japanese ramen noodles on the Spruce Peak Plaza.