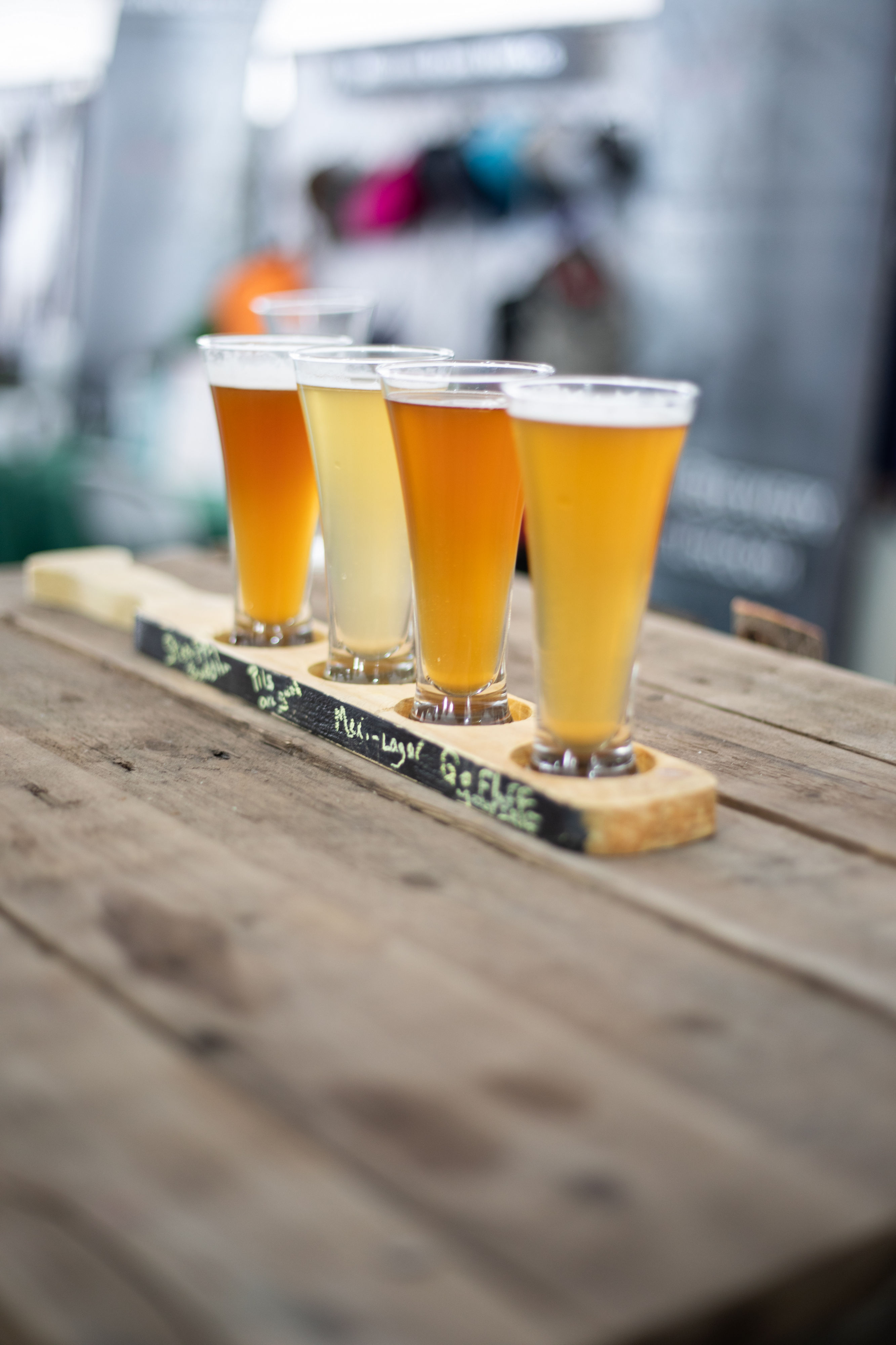 If you look at the yearly lists of "best beers in the world," one thing is consistent: Vermont's beers are not only some of the best in the world, but they are often at the top of those lists. And some of the best Vermont breweries are right here in Stowe.
The word is out and craft breweries such as Stowe's The Alchemist, Waitsfield's Lawson's Finest Liquids and Hill Farmstead in Greensboro have developed cult followings.
"One of the reasons Vermont has such good beer is we have great water," says Sam von Trapp, of von Trapp Brewing, a brewery and Austrian-style Bierhall located just off the
cross-country ski
trails of the Trapp Family Lodge in Stowe. The pristine slopes of the Green Mountains have no shortage of natural springs that get refilled each year as the snowmelt seeps through the ground.
Another reason: The American Brewers School is in Middlebury, Vermont, and has been a training ground for brewers from around the country.
The combination gave rise to a craft beer movement that has stormed the Green Mountains. With more than 74 breweries, Vermont has more breweries per capita than any other state and produces 344,669 barrels of craft beer a year — the highest per capita as well.
The Vermont Brewers Association, which keeps tabs on these numbers, now has an app that showcases the breweries and a "passport" that you can get stamped at each one you visit to redeem for a prize if you qualify.
Here are five great breweries in and around Stowe, VT, to visit during your next trip:
The Alchemist, Stowe
What started as a husband-and-wife brew pub in Waterbury, Vermont, has become one of the most popular craft breweries of all time.
The Alchemist
was made famous by its Heady Topper, an American double IPA that brewer John Kimmich says is best fresh, cold and sipped from the can. The brewery also turns out beers that range from Farmer's Daughter, a Belgian-style saison, to Luscious, a British Imperial Stout. The tasting room has been under renovation, but the beer garden is open Thursday-Sunday. There's curbside pickup if you order ahead, and brewery tours can be reserved online.
von Trapp Brewing, Stowe
Johannes von Trapp, the youngest son of Maria and Baron Georg von Trapp (of "The Sound of Music" fame) had always wanted to brew an Austrian-style lager. He started a small craft-brewing operation that expanded in 2015 into
von Trapp Brewing
with a commercial brewery attached to an Austrian-style Bierhall. The brewery has stayed true to its Austrian heritage and at the Bierhall you can taste a flight that might include award-winning brews such a Kolsch ales, Vienna-style lagers, golden Helles and Bavarian pilsners. The Bierhall also serves pretzels, burgers, bratwurst and other Austrian/American fare, making it a popular spot for
après-ski
.
Idletyme, Stowe
A smaller artisanal brewer with a three-vessel brewery and a charming wood-paneled pub and restaurant,
Idletyme
's Mountain Road location is the best place to taste its beers. Brewmaster Will Gilson's specialty is Bavarian weizens, but order up a "brew-ski" and you can sample a variety of six beers including Belgian ales and double IPAs. Idletyme's beers come in cans, and growlers to go and are available in limited quantities in some stores, too.
Hill Farmstead, Greensboro
Beer connoisseurs will wax poetic about
Hill Farmstead
's limited edition, often-hard-to-find brews that are often
award-winning
. In 2020, in fact, it was named the best brewer in the world by ratebeer.com. Vermonter Shaun Hill built the brewery on land where his grandfather and his grandfather's 13 siblings were raised. The land has been in Hill's family for seven generations. A philosophy major, Hill worked at breweries in Europe before returning to Vermont to start Hill Farmstead in 2010. Using local ingredients, he began crafting beers with the dedication to the craft usually devoted to fine wines. Many of Hill Farmstead's brews are named for relatives. Aaron Bourbon/Cognac, named for a great-great-great-grandfather who operated a tavern in the area in the 1800s, is a barleywine-style ale aged in bourbon and cognac barrels. Florence, named for a great aunt, is a Belgian inspired wheat ale crafted from American malted barley, organic Vermont wheat, European and American hops. Visits to the Greensboro Bend brewery about an hour north of Stowe are by reservation only.
Lawson's Finest Liquids, Waitsfield
Sean Lawson was a naturalist guide who gave
snowshoe nature tours
at Mad River Glen and enjoyed home brewing. Then his home brews took off, especially his signature Sip of Sunshine IPA. The beers proved so popular that in 2018 Lawson moved the operations out of his Warren garage into the space it occupies now:
Lawson's Finest Liquids brewery
, taproom and retail store in Waitsfield, about 45 minutes south of Stowe on Route 100. Lawson's beer menu has expanded to include variations on the popular Sip, double and triple IPAs, as well as a Scrag Mountain Pils, the ConnMan Helles Lager and seasonal specialty brews. The taproom serves light fare such as Vermont cheese and charcuterie plates, which you can enjoy indoors or around outdoor firepits.
Vermont Brewery Tours
This is just a handful of the great breweries in Vermont. If you are serious about brew touring, consider hiring a guide. Stowe's Rick has been a ski instructor and a mountain bike instructor and now runs
4 Points VT
, a guiding company that combines beer touring with mountain bike touring in the summer. 4 Points VT's guides act as designated drivers as they take individuals or groups on tours of the area's best breweries in their vans.
In addition to the three breweries in Stowe, VT, (with options to stop at Stowe Cider), 4 Points VT will also drive visitors north to Morrisville's breweries (Ten Bends, Lost Nation and Rock Art), and make the pilgrimage north to Hill Farmstead in Greensboro.
If you want to try other beer tours around the state, check out
VT Ski + Ride Magazine
's
5 Great Beer Trails
.
Produced in partnership with Vermont Ski + Ride Magazine.