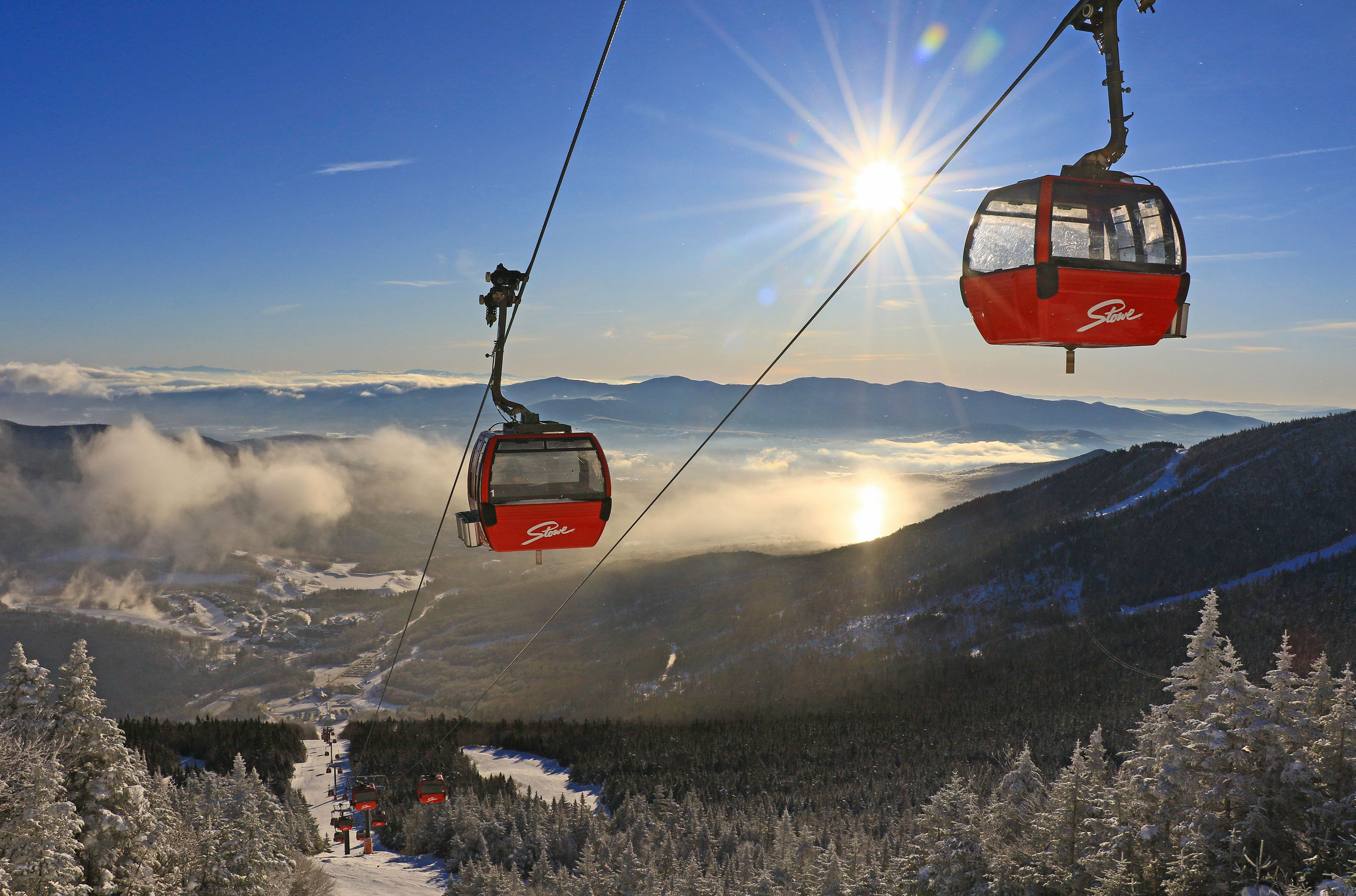 1. There was once a hotel on top of Mount Mansfield: True

Long before Stowe Mountain Resort existed and Vermont' ski mountains came to be, a lawyer named William Henry Harrison Bingham built The Summit House near the Nose of Mount Mansfield. It opened in 1857 with 70 rooms, but no bar. Summer guests — who included Ralph Waldo Emerson and other luminaries — would either hike up or would be driven up the Toll Road and use the hotel as a base for exploring Mount Mansfield and the surrounding mountains. That hotel was closed in 1957 and later destroyed. It wasn't until 2005 that construction began on the Lodge at Spruce Peak, located at the bottom of the Spruce Peak slopes at Stowe Mountain Resort. That luxury hotel with apartments, a spa and two restaurants is popular year-round.


2. The first ski lift in North America was installed in Stowe, Vermont: False

In January 1934, the first uphill ski lift, a rope-tow, was installed on Clinton Gilbert's farm in Woodstock, Vermont, to serve guests at a nearby inn. Stowe's rope-tow came shortly after, installed on Stowe's Toll House slope in February 1937. Nor can Stowe claim the first chairlift — that was installed in Sun Valley, Idaho, in 1937. However, in 1940 the "longest and highest chairlift in the world," was installed on Stowe's Mount Mansfield. That single chair was 6,330 feet in length and climbed 2,030 feet in vertical. Guests were given wool blankets to keep warm on the ride up. That lift ran until the 1985/86 season, reaching the Octagon restaurant. Today, the high speed Fourrunner Quad (a 2012 lift) carries four skiers up to the Octagon. Stowe's gondola up Mount Mansfield started operating in 1968 and was replaced in 1991 by the current 8-person gondola.


3. Nose Dive was the first trail cut on Mount Mansfield: False

In 1932, Craig Burt turned an old logging camp near where the Stowe Cross Country Center is now into Ranch Camp. It served as a base from which the Civilian Conservation Corps began to cut trails for recreational skiing. The Bruce Trail, which is no longer on the Stowe trail map, was the first trail they cut. It started near where the Octagon is now (just below the "nose" of Mount Mansfield and ended at Ranch Camp. In 1934, the Nose Dive trail was built. By 1937, there were more than 40 miles of trails on Mount Mansfield.


4. The Mount Mansfield Ski Patrol is the oldest in the country: True

In 1934, the Mount Mansfield Ski Patrol was incorporated along with the Mount Mansfield Ski Club. It is the oldest continually operating ski patrol in the country. Legend has it that C. Minot "Minnie" Dole was one of the first rescues. Minot fell while descending Toll Road and broke his ankle. According to historian Brian Lindner, two other skiers — forester Craig Burt and Frank Griffin — went searching for him. They found him after dark and brought him down the hill using corrugated tin roofing for a sled and kerosene lanterns to light the way. Griffin, Burt, Stowe founder Roland Palmedo and trail builder Charlie Lord were members of that first patrol, which they modeled after the Swiss Army rescue units. True.


5. The Stowe Derby (a race down the Toll Road into the town of Stowe) was started when two ski instructors, a cross-country instructor and an alpine instructor, challenged each other to a race from the mountain to town: True

In 1945, Austrian Sepp Ruschp, the head of Stowe's ski school, challenged Norwegian Erling Strom, a world-famous mountaineer to a race. The rules were simple: They would start near the top of Mount Mansfield and finish in the village of Stowe and could only use one pair of skis. The terrain was roughly half downhill and half cross-country, covering about 13 miles. Ruschp, who used alpine skis, won the first two races. Today, the race is still contested and most use cross-country skis.


6. Olympic ski racers Billy Kidd, Tiger Shaw and Ryan Cochran-Siegle all trained on Mount Mansfield: True

All three trained with the Mount Mansfield Ski Club. Founded in 1934, it is one of the oldest ski racing organizations in the country and still trains top racers. Kidd, who grew up in Vermont, was the first American man to win an FIS ski race and one of the first two to win an Olympic medal ski racing, which he did in 1964. Kidd later moved to Steamboat, Colorado. Tiger Shaw grew up in Stowe and his relatives still run the Shaw's General Store on Main Street. Shaw raced in the 1980 and 1984 Olympics and later became the head of U.S. Ski and Snowboard, the sport's governing body in the U.S. Ryan Cochran-Siegle learned to ski at Cochran's Ski Area in Richmond, Vermont, but raced with the Mount Mansfield Ski Club and attended the Mount Mansfield Winter Academy. Cochran-Siegle won a silver medal in the Super G in the 2022 Olympics.


7. Jake Burton Carpenter started Burton Snowboards in Stowe: False

Jake Burton Carpenter, considered the godfather of snowboarding, started building and selling snowboards in Londonderry, Vermont, in the late 1970s. They were an evolution of the Snurfer, which Sherman Poppen had invented and though they were not the first snowboards, Carpenter is credited with popularizing the sport and getting ski mountains to accept it. In 1992, he and his wife Donna — who was also his business partner — moved Burton Snowboards to Burlington. They bought a home in Stowe. Jake Carpenter, who rode 100 days a year or more, passed away from cancer in November 2019. His favorite Stowe trail — formerly named Lullaby Lane — was renamed Jake's in his honor. Donna Carpenter and her sons run the company from its global headquarters in Burlington, and they still have their home in Stowe.


For more on the history of skiing in Stowe and around Vermont, visit the Vermont Ski and Snowboard Museum, located at the intersection of Route 108 and Route 100 in the village of Stowe. The Museum has rotating exhibits as well as frequent talks on the history — past and present — of skiing and hosts a regular "Red Bench" speaker forum on Zoom.


Produced in partnership with Vermont Ski + Ride Magazine.