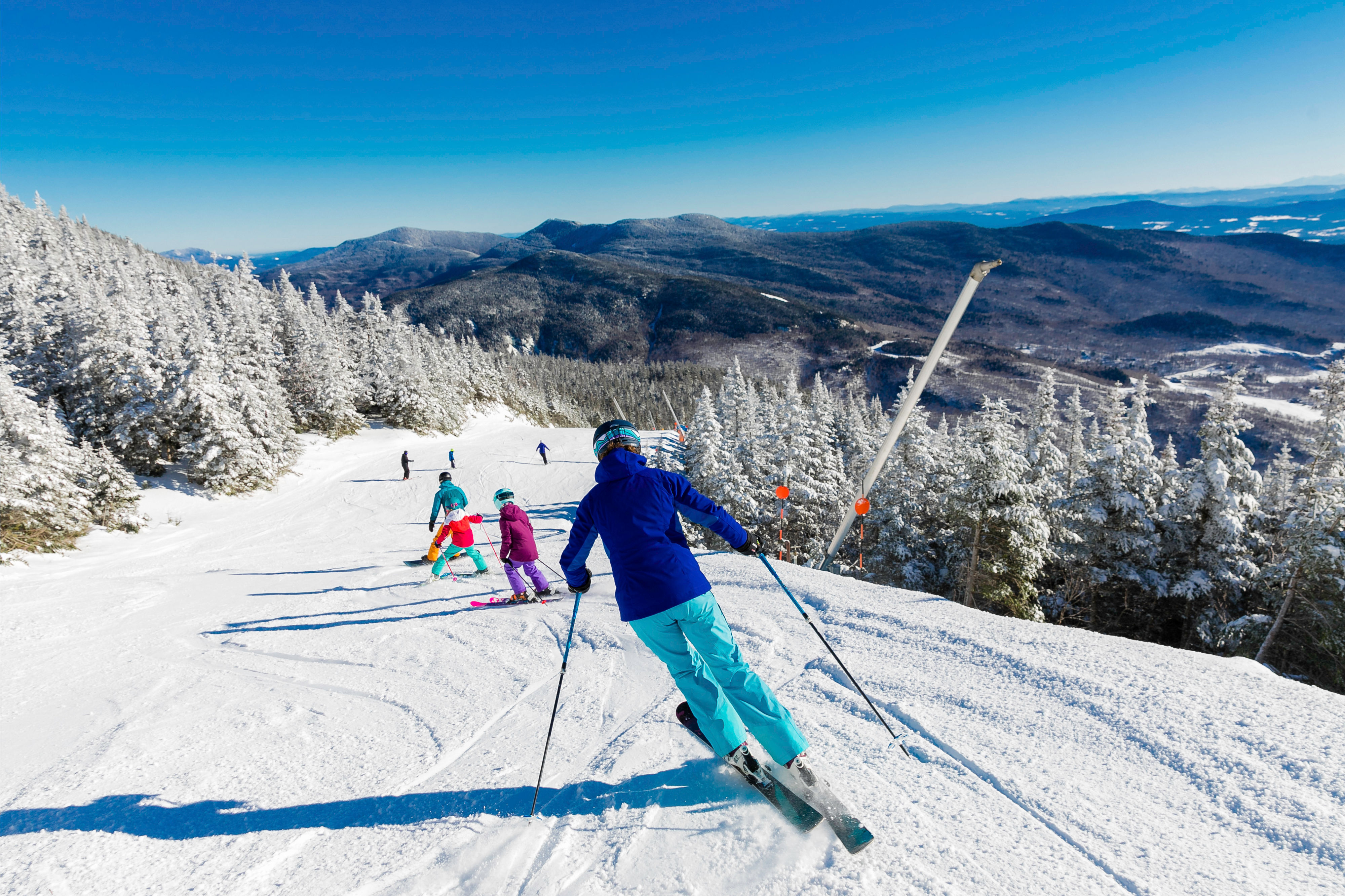 Growing up in Stowe, Forrest Shinners had access to every item of skiwear he could possibly need: His parents owned the ski shop, AJ's Ski & Sports. Shinners was determined he wasn't going to go into the family business so instead he went to New York City to work in finance.
Then one day he invited his girlfriend up for a weekend of skiing at
Stowe Mountain Resort
. "I realized she only had street apparel, nothing really good for skiing. I told her 'No problem, we have tons of gear,'" he said. "When she saw our closet and all the apparel we had, she remarked 'this is like Rent the Runway except for skiers.'"
That sparked the idea for
Kit Lender
, a business that lends skiwear and other apparel and outdoor gear. Shinners built a website and took his idea on the TV show "Shark Tank" in 2019. While he didn't win the big investment from that show, he has been able to grow the rental company and now delivers ski apparel around the country.
Kit Lenders is still based in Stowe, and skiers and riders coming to Vermont can order apparel ahead of time and have the gear delivered to their hotel or pick it up in town.
If you have your own gear though, the question of "what to pack for a ski trip in Stowe?" is one that comes up repeatedly. You don't need to pack a lot for a
ski trip in Stowe
. But having the right apparel can make a huge difference in how much you enjoy your day on the slopes. Here are a few tips for building your ski trip packing list:
Prepare for Any Weather
Weather in Stowe
can be highly variable. Temperatures, even in January, can go from 60 degrees to -20 in a matter of days. Granted those are extremes, but it is best to be prepared when packing for a ski trip. Most skiers and riders build their wardrobes around layering, which allows them to be flexible as the weather changes. That often means good long underwear, an insulated sweater or puffy jacket and a wind-proof and, ideally, water-resistant outer shell.
Have a Good Set of Base Layers
Staying warm starts with the layers that are next to your skin. A pair of running tights is no substitute for thermal long underwear made from wool or synthetic fibers that are designed to insulate. Two pairs of well-fitting, warm long underwear (tops and bottoms) are good investments that will last you for years. Tops that have zippered necks allow you to unzip them in the lodge to shed heat, as needed. Another feature to look for are sleeves with thumb holes. These protect your wrists where you can lose a lot of heat.
Socks, Hats, and Mittens
Don't forget your hands, feet and head when packing for a ski trip — extremities are usually the first areas to get cold. A mistake people sometimes make is thinking that thicker ski socks will be warmer. If your ski or snowboard boots fit well, you should opt for a thinner wool sock (yes wool) as thicker ones can bunch up. There are also several new lines of heated socks. While you can put disposable hand or foot warmers in your boots, those also risk bunching up and causing your feet to cramp.
For headwear, a
helmet offers protection
both against injury and against the elements, keeping your head dry and warm. These days, it is rare to see a skier or rider without one. If it is very cold, slip a thin hat under it. A balaclava or neck warmer that you can pull up over your nose and chin will also keep you warmer and help prevent chafing from wind or cold. Make sure you have a good pair of goggles that fit well with your helmet, too.
Mittens will keep your hands warmer than gloves. Ones with down or added insulation and long cuffs offer the best protection against cold or snow.
Tops, Jackets and Pants
The classic ski sweater is a stylish knit wool sweater that can go from the slopes to
après-ski
. Wool is a good insulator that's as warm if it gets wet as it is dry, something that cotton or acrylic fibers won't do. However, these days many people prefer to wear a light puffy jacket or vest as a second layer. Down will keep you warm but will bunch up when it gets wet so many apparel companies are opting for a synthetic fill instead.
You can wear a thicker puffy as an outer layer but keep in mind that many puffy jackets are not waterproof and don't block the wind as well as a shell. Some puffy jackets are also prone to ripping if they catch on a branch.
Instead, look for either an insulted jacket or wear a puffy under a wind-proof and waterproof outer shell. Likewise with ski pants (and you will need ski pants): You will want either a waterproof shell pant that you can wear over long underwear or insulated pants.
Après-Ski
Stowe is a low-key place where it's not unusual to see people wearing their ski gear (minus boots, of course) out for drinks after skiing or even to an early dinner. Many skiers simply pull on a pair of jeans over their long underwear or a casual skirt, throw on a hat to hide the hat-hair that's inevitable after a day on the slopes and call it good. If you want to get a bit more dressed up, throw on a wool or a faux-fur vest.
You won't need heels or dresses for most occasions in Stowe, but one thing you will want to pack for a ski trip in Stowe is a good pair of warm, tall boots that can take you through snowdrifts, which can sometimes pile up to a foot or more.
Don't worry if you don't have all of this apparel. The ski shops at the bases of Mount Mansfield and Spruce Peak carry everything from sweaters and jackets to goggles and helmets. There are also plenty of good shops along the Mountain Road, including
AJ's
where Forrest Shinners and Kit Lender got their start.
Produced in partnership with Vermont Ski + Ride Magazine.