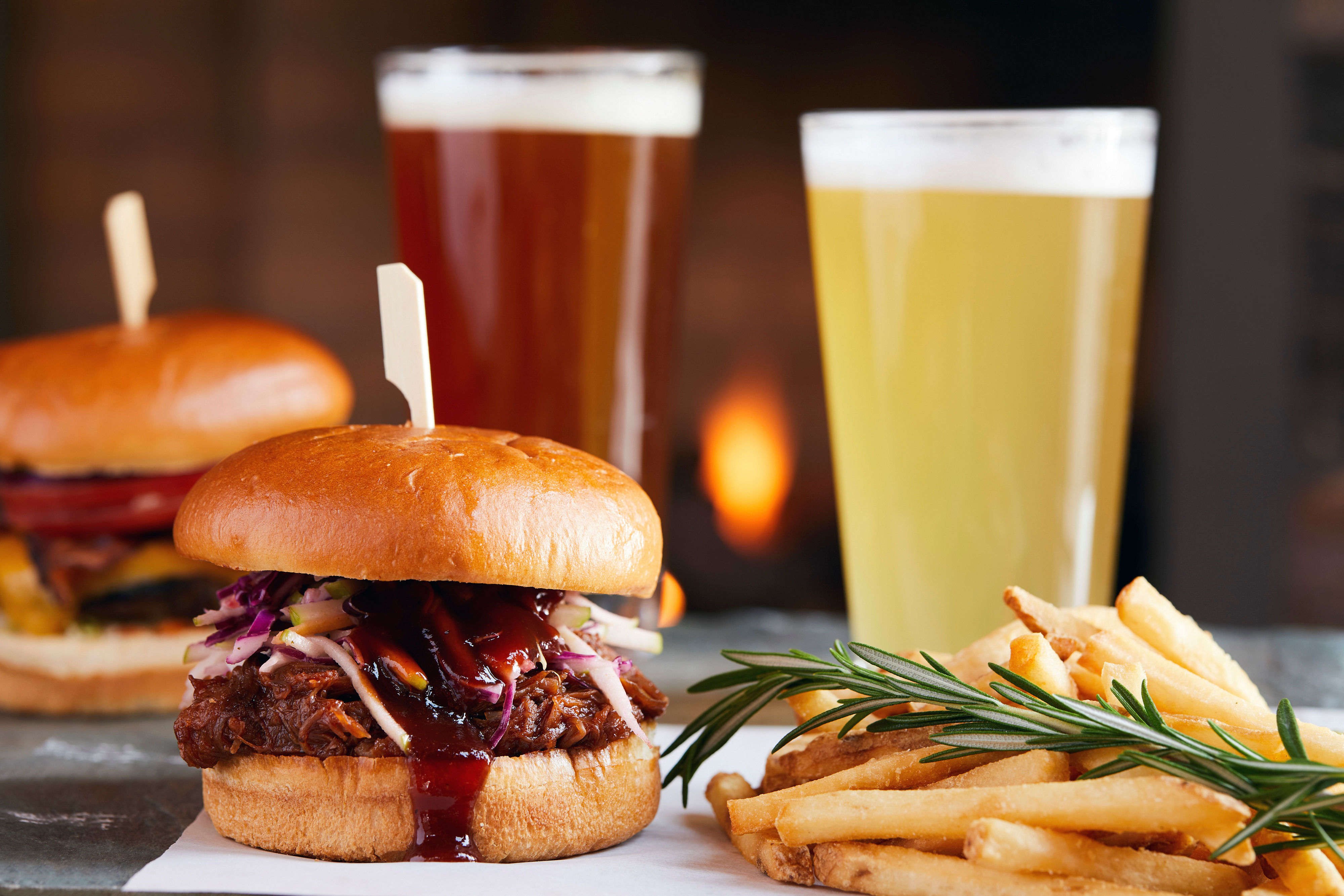 At Spruce Peak, the resort side of Stowe Mountain Resort, you can find every type of cuisine from food trucks that serve poutine (Maudite Poutine) or authentic Japanese miso soup (Miso toh Kome), to raclette cheese melted over an open fire at the WhistlePig Pavilion, to crepes made with farm-fresh Vermont-sourced ingredients at The Skinny Pancake. And that's in addition to the two newly renovated Stowe, VT, restaurants at the Lodge at Spruce Peak, the Tipsy Trout with a focus on seafood and the Alpine Hall.

Up and down the Mountain Road, there are great little eateries nestled into some surprising locations. Ranch Camp is a bike shop that also serves tasty burritos at its bar. At Stowe Bowl, you can nosh on flatbreads while bowling. Après, a cocktail lounge and wine bar, is smack dab in the middle of a beauty products store and salon, Mirror Mirror.

But if you are looking for something where both the locale and food are unique, where you can get a great meal in a cool setting, try one of these enduring Stowe, VT, restaurants:
Best Mountaintop Dining: The Cliff House & The Octagon
Two of the best views in Vermont are from the mountaintop
restaurants at Stowe Mountain Resort.
The Octagon, located at the top of the Fourrunner Quad, has been around since the 1940s and was recently renovated. Its breakfast sandwiches, made with fresh arugula and sauteed onions, became so popular that they are now served all day. Located at the top of Stowe's Mount Mansfield gondola at an elevation of 3,635 feet, The Cliff House is a ski-in, ski-out place for lunch, but it's far from the typical mountaintop cafeteria. There's a cloak room, and a hostess will escort you to your table with views out across the valley. The menu features various soups and salads. The restaurant is only open for lunch but occasionally will host special dinners. You will need to show your
Epic Pass
or buy a
lift ticket
to access both via the chair lift or
gondola
.
Best Bierhall: Trapp Family Lodge
When the von Trapp family fled Austria during World War II, they brought more than music to the mountains of Stowe. The Trapp Family Lodge marries the best of Austria with the best of Vermont and the same can be said of its Bierhall. The
restaurant and bar are attached to the von Trapp brewery
. Favorite brews such as the Helles or Pilsner are on tap, as well as seasonal specials. On the menu are Austrian specialties such as chicken schnitzel served with sauerkraut mashed potatoes and braised cabbage or bratwurst with a side of spaetzle. But you can also order a Johannes burger, made from beef raised on the Trapp Family Lodge farm and Bavarian pretzels with mustard dips. The space is bright and airy with soaring ceilings and long wood tables. Best of all, the resort's
cross-country ski
or
snowshoe trails
are right out the front door.
Best Fondue Restaurant in Stowe, VT: Swiss Fondue
In the 1930s and '40s, ski instructors from the Alps helped establish the sport here in Vermont. Since then, alpine traditions have gone hand in hand with skiing. At Stowe's
Swiss Fondue
, chef Heinz Remmel has replicated the cozy atmosphere of an alpine chalet with red checked tablecloths and six pine tables. The menu is as authentic Swiss as it gets: Appetizers include raclette (melted cheese served over potatoes with cornichons and onions) and bunderfleisch, a charcuterie plate of thinly sliced aged beef. But the main courses are all fondue, made with authentic Swiss cheeses or with broths served with meat and fish, all served with a variety of sauces. Dessert? Well, that's fondue as well — chocolate of course.
Best Casual Dining: The Whip
Located in the heart of the village of Stowe, the Green Mountain Inn has been catering to visitors since 1833. In the halls leading to the hotel's adjacent restaurant,
The Whip
, black and white photos on dark wood paneled walls tell the story of
Stowe's ski history
with images of the early pioneers skiing the trails the Civilian Conservation Corps cut at Ranch Camp and more. The décor is horse-themed and includes a variety of antique whips. The menu includes dishes such as pan-blackened ahi tuna with a cilantro lime butter and miso aioli and a Gorgonzola-crusted filet mignon.
Most Scenic Stowe, VT, Restaurant: Hen of the Wood
It would be easy to love
Hen of the Wood
just for its setting in an old mill nestled next to a gushing waterfall just south of Stowe in Waterbury. Inside, rough-hewn rock walls and repurposed parts of the old mill work tell the history of this building. But it's also a restaurant people have been making a pilgrimage to ever since co-owner Eric Warnstedt appeared on the cover of "Food & Wine" in 2008 as one of the country's top up-and-coming chefs. Since then, the kitchen has turned out consistently excellent dinners made with ingredients sourced from local farms. The menu is simple but features dishes such as duck breast with juniper-braised cabbage and pickled cranberries. Warnstedt has since gone on to open a Hen of the Wood in Burlington and also owns the more casual Doc Ponds in Stowe and Prohibition Pig in Waterbury.
Produced in partnership with Vermont Ski + Ride Magazine.