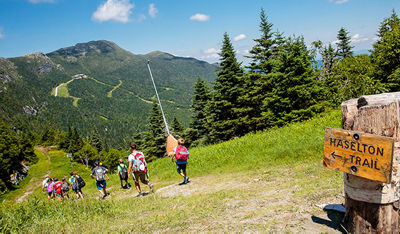 Think of mountaineering, and you might think of the 14,000-footers in the Rockies, or the high peaks in the Sierra. But there's a long history of mountaineering in Stowe. The National Ski Patrol was founded here in Stowe in the early 1930s and the U.S. Army's Mountain Warfare School is located just over the ridge of the Green Mountains in Jericho.

Today, everyone from beginners to elite soldiers come to Stowe to rock climb, ice climb or to hone their ski mountaineering skills in one of New England's most-photographed mountain passes, Smugglers' Notch. The mountain gap that runs between Stowe's Mount Mansfield and Spruce Peak was used by smugglers during the War of 1812 to ship supplies in from Canada, hence its name. It's now considered one of the premiere mountaineering destinations in the Northeast.
Indoor Climbing at Spruce Peak
Before heading out into the Notch to climb or ice climb, learn the basics at the indoor climbing gym that's just steps from Stowe Mountain Resort's ski slopes. The Stowe Rocks Climbing Center, which was closed the past two seasons due to Covid 19, reopened in summer 2022 and is scheduled to stay open through the 2022/23 ski season.

Inside the stunning Adventure Center at Spruce Peak is the 40-foot Elephant Head Tower (a replica of the Notch's Elephant Head natural rock formation) and the 30-foot-high Program Wall. The sloped, vertical and overhanging perspectives are geared toward climbers of all skill levels, with options for auto-belays — meaning you don't need a second person to hold your ropes. Get set up with a harness, climbing shoes and ropes and then you can take a lesson or climb on your own.

Children 12 and under can scramble up the smaller, 12-foot-high wall where climbing holds are fashioned to look like fun refrigerator magnets. The handholds are shaped as brightly colored airplanes, boats, trucks and Lego pieces as well as letters and numbers. This makes it easy to tell your kid, "Hey, reach for the boat."
Bouldering and Climbing in The Notch
In the summer, Route 108 winds up through the Notch, as the locals call it, and you can see climbers testing their skills on the giant boulders that have broken off from the cliffs or scaling the gullies and walls. In the winter, the mountainous road is covered in snow and closed to vehicles. Then, it becomes a playground for backcountry skiers, snowshoers and ice-climbers.

Alex Sargent, the lead guide of Sunrise Mountain Guides, knows the Notch probably better than anyone. Sargent grew up in nearby Morrisville and has made many of the first ascents in the Notch. For 26 years, he was a leader and instructor at the U.S. Army's Mountain Warfare School. He has climbed on six continents.

Sargent and his hand-picked team of elite, certified mountain guides, offer a number of courses. In the summer and fall, Rock Climbing 101 is a perfect half-day course that's family-friendly and features short, top-roped climbs, with all of the equipment provided. The Rock Climbing 201 and 301 courses are geared to small groups who want to learn more and explore the Notch's many climbing routes. In winter, Sunrise Mountain Guides has ice climbing and mountaineering courses, too.

The Notch is better known for its ice climbing, says Travis Peckham, who has written "Tough Schist," the definitive guide to climbing in Vermont. "The adventurous few who've explored its long scree gullies have found dozens of huge buttresses with some of the wildest and most exposed climbing Vermont has to offer," he says.
Ice Climbing in Vermont
One of the most beautiful features of the Notch are the frozen cascades that glisten a crystalline blue as they tumble 40 feet or more over the cliffs. These icy waterfalls make for some of the region's top ice climbing. "It's absolutely beautiful up there," says Andrea Charest. She and her husband Steve operate Petra Cliffs, the Burlington-based climbing center and mountaineering school.

Their winter training ground is the Notch. A short approach — it's about a 30-minute walk up Route 108 from the Stowe parking area — puts you beneath the impressive series of ice falls that offer multiple routes to climb.

The last weekend in January, Petra Cliffs typically puts on Smuggs Ice Bash, an ice climbing festival that draws hundreds. "It's a great opportunity to try new equipment or to take a clinic," says Charest, an accomplished mountaineer. Clinics include everything from an intro to ice climbing for women to ski mountaineering.

You don't have to wait for Smuggs' Ice Bash, though. You can book an ice climbing or ski mountaineering course anytime the conditions are right with Petra Cliffs or Sunrise Mountain Guides. "We provide all the equipment – helmet, harnesses and ropes, ice axes, crampons and boots," says Charest.

As with rock climbing, you're roped up and wearing a harness to protect you if you should fall. But thanks to ice axes and special boots with spikes, you can scale even the steepest waterfall.
Ski Mountaineering
Both Petra Cliffs and Sunrise Mountain Guides also offer courses in ski mountaineering and backcountry skiing. "We cover everything you need to travel safely over snow: from
avalanche safety
and self-arrest to how to use ropes, crampons and ice axes," she says. They will even prepare you to travel in areas where you might encounter crevasses and need to self-rescue.
Those classes are in addition to the AIARE (American Institute for Avalanche Research and Education) classes in avalanche safety, which Petra Cliffs offers each year. While avalanches are rare in New England, five soldiers in the U.S. Army's Mountain Warfare School were caught in one while training in the Notch in 2018. All five were hospitalized and then released.
The
in-bounds ski slopes at Stowe Mountain Resort
are safe and patrolled, but for those who want to venture into the sidecountry or backcountry off Mount Mansfield, it's not a bad idea to take one of these courses or to hire a guide. You'll pick up skills that will help you no matter how big a
mountain you head to on your next trip
.
Produced in partnership with

Vermont Ski + Ride Magazine

.