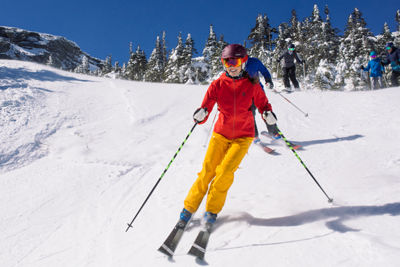 Trip Planning Checklist
Select your dates. Determine your Off-Peak or Peak Season.
Tell your group about ski and snowboard lesson options.
See who needs rentals. Inform them about our ski, snowboard and demo rental shops conveniently located and stocked with the latest equipment. Overnight mountain gear storage is available.
Make your accommodation arrangements. We'll deliver tickets to your lodging property (with advance payment in full). Skip the morning lines and get skiing.
See who has retail needs. For them, we stock the latest equipment, clothing and accessories. We also have a great selection of Stowe logo wear and souvenirs.
If your order changes, you're covered. Unused tickets on the first day of skiing can be exchanged or even refunded. Please return tickets to the Mansfield Group Sales Desk located inside the Mansfield Base Lodge between 7:30 a.m. and 10 a.m.
Trip Arrival Checklist
If arriving by bus, a resort representative will flag your bus into the convenient parking area adjacent to the Mansfield Base Lodge, welcome your group and answer any questions.
Those paying upon arrival must pick up tickets at the Mansfield Group Sales Desk.
Pick up your rentals. Intermediate and advanced skiers head to Mansfield Base Lodge. Beginner and novice guests should go to the Spruce Camp Base Lodge to pick up your rentals.
All lessons are located at Spruce Peak. The Children's Adventure program begin at 9:15 a.m and adult lessons begin at 10 a.m.
Go ski or ride.
Bus Checklist
Please do not park buses in front of the lodges or stop to unload in roadways.
Follow the tour bus directions provided by the Stowe staff.
Leave excess baggage and valuables at your hotel.
"Cubbies" and day lockers are available in all base lodges for storage.
Set a time for your driver to meet the group at the bus after skiing.
Overnight storage is available at both Spruce Peak and Mount Mansfield for a fee.
Wanna Race?
Groups can experience the excitement of competing in a professionally-run race with bibs, a timekeeper and two runs per person. There is a minimum of 25 participants. Prices vary. Videotaping of your event is also available. Contact your group sales representative for more information.
Lunches and Après Ski Parties
If your group would like to beat the crowds and enjoy a private lunch or après ski party, we can host a ski-in/ski-out lunch buffet at the Toll House Lodge, at the base of the Toll House Chairlift or at another resort location. Kick back and relax in ultimate comfort until you're ready for the slopes again. Say the word and our Hospitality staff will take care of it all.