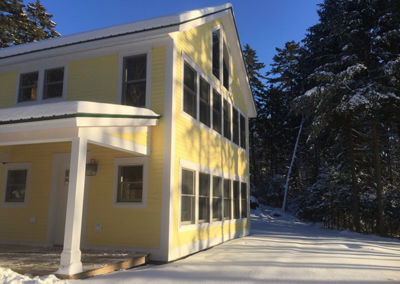 Welcome to your
Stowe Area Home Digital Concierge
Your exclusive link to all the products you need to complete your Stowe vacation. Purchasing in advance ensures you get the best possible rates, and onto the mountain faster.
Our clean, smoke free, newly built home provides all the amenities for your Stowe area vacation. Tucked away on a private road, our home sleeps eight comfortably but is also perfect for just two. There are 2 bedrooms with en suite full baths; a cool sleeping alcove as well as 2 luxurious convertible sleeping futons. Linens and towels are provided. Located in the Greater Stowe Area of Lake Elmore, our vacation home is built on 1.5 choice acres, a 1/2 mile from Lake Elmore. Stowe village is an easy short drive, only 14 miles. You'll enjoy both privacy and beauty with panoramic mountain views of Elmore Mountain.
Our contemporary New England style "green" home, was designed and built as an upscale, getaway. The design is an open concept with 16-foot high cathedral ceilings supported by beams of locally harvested Hemlock braced by custom fabricated iron. Ledge stone & solid bamboo floors surround the lovely gas fireplace. Walls of windows provide scenic views of Elmore Mountain and the surrounding woodland of Balsam and Birch. The Chef's kitchen features granite counter tops, new stainless steel appliances including a quiet dishwasher, a five-burner gas stove with full oven & a wicked big fridge. The laundry room has both a highly efficient front loading washer & dryer. We have an extensive, leather bound book of local information, area maps, activities and menus. You can snowshoe or backcountry ski from the house, the Catamount Trail is nearby. We are happy to help you with your vacation questions. Personalized concierge services are available as an optional indulgence.