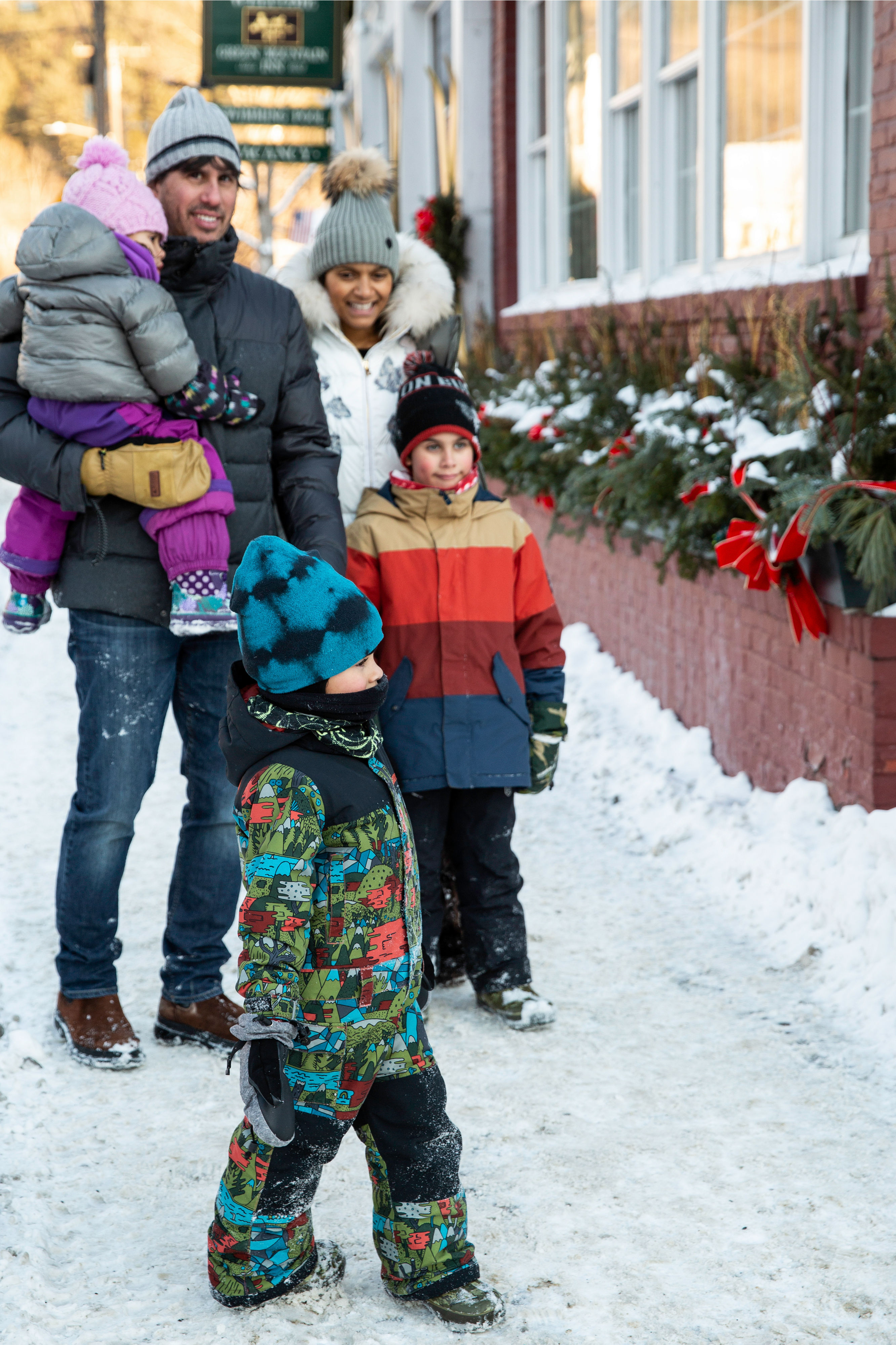 Stowe Ice Skating
Right at the base of the slopes at Stowe Mountain Resort,
Spruce Peak's outdoor ice rink
is at the center of the
après-ski
action with twinkly lights, rink-side lounge areas with firepits and the WhistlePig Pavilion whisky bar at one end. You can rent skates at Stowe Mountain Resort's Spruce Camp or at the
Lodge at Spruce Peak
. The rink is open from noon until 6 pm during the week and until 9 pm on weekends. There are several food trucks, kid-friendly restaurants such as The Skinny Pancake right next to the rink, and even a s'mores station. The best part? Skating is free for all.
Ben & Jerry's Ice Cream Factory Tour
For anyone who has ever read "Willy Wonka and the Chocolate Factory," the
tour of the Ben & Jerry's ice cream factory
in Waterbury, just 8 miles south of Stowe on Route 100, will not disappoint. The 30-minute tours start with a "Moo-vie" that tells the history of how the company was founded by two fun-loving, environmentally conscious hippies. It then takes small groups past the various stations where the ice creams are made and mixed in with flavorings and add-ins to make such popular flavors as Cherry Garcia or Phish Food. The tour includes samples (of course.)
Indoor Climbing for the Whole Family
Right next to the ice rink, the indoor climbing walls at
Stowe Rocks Climbing Center
at Spruce Peak will challenge anyone age 4 to 84. Children ages 12 and under can scramble up a 12-foot-high wall with handholds and footholds that are made to look like toys — planes, trucks, Lego pieces. Older children and adults can rent a climbing harness and shoes, rope up and try their luck at ascending the 40-foot Elephant Head Tower (a replica of the Elephant Head natural rock formation that's a prominent geologic feature in Smugglers' Notch) or the 30-foot-high Program Wall.
Stowe Swimming Hole and Other Pools
You might not think that swimming and skiing go hand in hand, but for guests staying at
The Lodge at Spruce Peak
, the outdoor pool is a popular way to unwind after a day skiing. From a small indoor changing room, swim out through a short "tunnel" to the main heated pool and two hot tubs area. But that's far from the only pool. In the town of Stowe,
The Swimming Hole
features an indoor pool that both adults and children love. The sports complex was originally given to the town by Burton Snowboards founders Jake and Donna Carpenter and features an 8-lane, 25-meter competition-sized pool and fitness center housed in what looks like a modern red barn. For children, the main attraction is the huge spiral waterslide and a shallow wading pool with fountains that kids can turn off and on with control wheels.
Bounce on Trampolines
To say that
Elevate Movement Collective
is a trampoline gym doesn't do justice to one of Stowe's newest and most popular training facilities. The gym features a series of trampolines surrounded by padded mats, parkour challenges and climbing walls. While the gym can be booked for parties and events, this is not a substitute for a bouncy house but more of a training ground for anyone who wants to be more comfortable or stronger in the air — as a skier or rider or athlete. One of the gym's co-founders, Noah Labow, is a former contestant on American Ninja Warrior as well as a freeski coach and any of the gym's instructors have similar backgrounds. Co-founder George Coultas is an accomplished snowboarder and coaches competitive riders. The third co-founder, Justice Hedenberg has worked in Hollywood as a stuntman and specializes in martial arts, parkour and skateboarding. Classes are geared for children as young as 5 and go on up to age 17 for those who want to learn aerial tricks. There's even an open session for adults. It's a great family activity to improve on the slopes.
Family Bowling in Stowe
How many New England ski areas have a bowling alley right in town? And one that's actually swanky?
Stowe Bowl
, part of the Sun & Ski Inn on the Mountain Road brings a bit of sophistication to bowling. Its eight lanes feature plush couches and stylish décor. There's a bar that serves everything from Shirley Temples to White Russians, and you can order kid-friendly food such as loaded tots, pizzas, hot dogs and mac 'n cheese — all delivered right to your lane. The lanes do get busy, so it's a good idea to call ahead to reserve a spot for this Stowe family activity.
Sledding and Snow Tubing in Stowe
Sledding is a classic winter activity for families. The hill behind Stowe's elementary school in the village has long been a favorite sledding destination, and many shops in town rent sleds or inner tubes designed for snow sliding. But if you want to make an adventure out of it, consider signing up for one of
Umiak
's guided tubing/snowshoe tours. The outfitter will provide the tubes and snowshoes and take you to an area where you snowshoe up and then slide down, within view of a frozen pond.
Go to the Cinema
With so much attention paid to little screens, Stowe may be one of the few ski areas left in New England that still has a big-screen cinema, and a 3-plex no less.
Stowe Cinema
, just off the Mountain Road near the Baggy Knees Shopping Center, is a place to settle in with a carton of popcorn (made with canola oil and served with real butter), a soda pop for the kids and maybe something a little stronger for adults (there's a full bar that serves drinks that can be consumed in one area of the theater's "projection room lounges") and watch the latest Hollywood releases.
Produced in partnership with Vermont Ski + Ride Magazine.