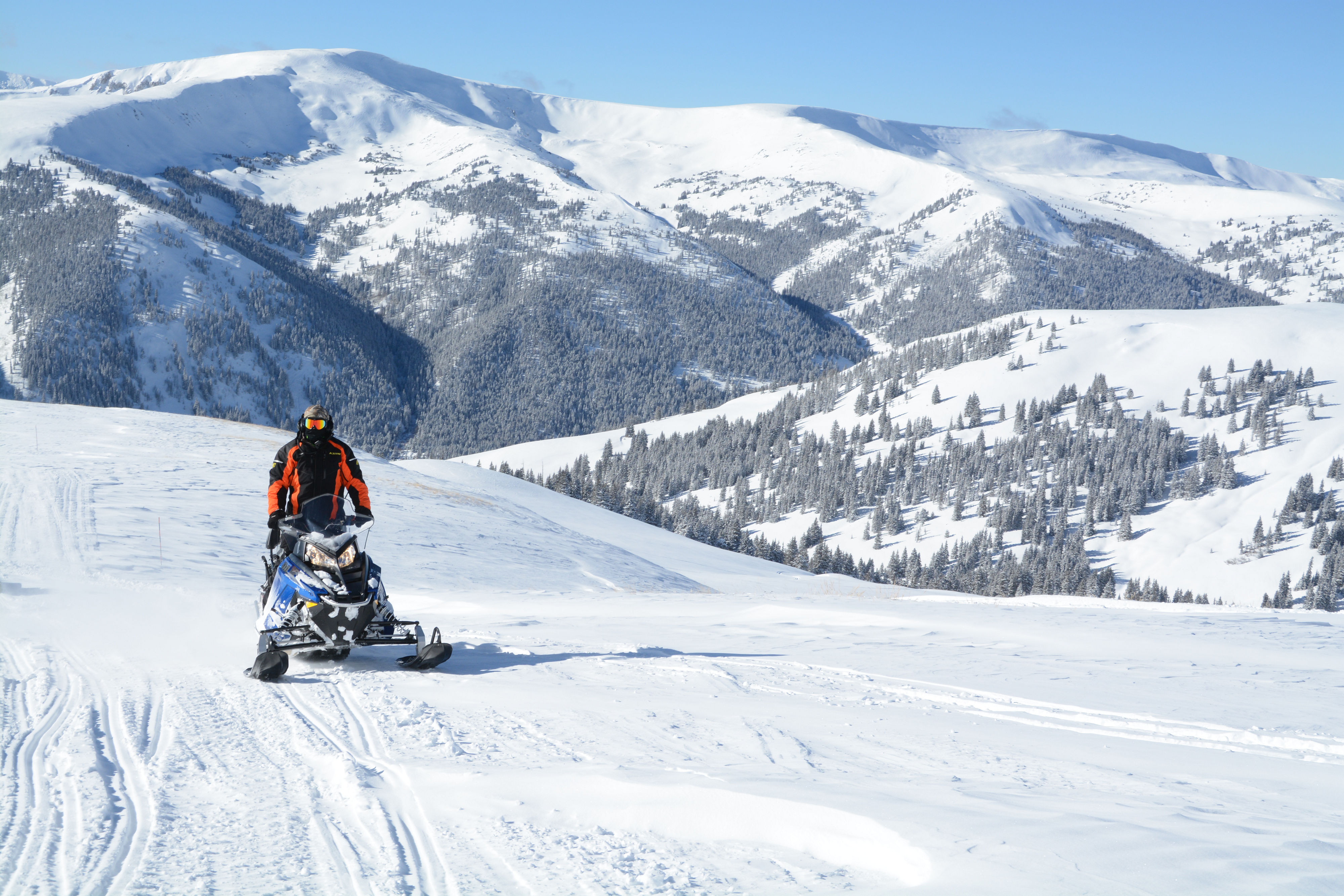 Just minutes from Stowe Mountain Resort, Vermont's snowmobile trails go deep into the 44,444-acre Mount Mansfield State Forest. The trails parallel the frozen Waterbury Reservoir and cross snow-covered fields. They wind up hillsides and weave through the forest, passing stands of hardwoods, birch and pine groves where the bows often hang heavy with snow.

These trails are, in fact, part of the largest trail network in Vermont, a network that's only open in the winter.

Hop on a snowmobile, rev the engine and explore miles of groomed and marked backcountry trails near Vermont's ski mountains, blasting along at speeds like what you might drive in a car.

"I've ridden a Jet-Ski but this is even better," says Matt Levins, who first tried snowmobiling in 2021. "There's this amazing feel of power and torque that I've never felt before and you get to explore places where you won't see another person."

While skiing may be Vermont's first winter sport, snowmobiling is the second most popular one. Even Vermont's governor is a snowmobiler — and a good one, at that. At one point, Gov. Scott, who also drives a race car, was a world-class snowmobile racer who has won several New England Championships.


A VAST Network of Vermont Snowmobile Trails
Vermont has a long history with snowmobiling. Over 50 years ago, snowmobilers founded the nonprofit Vermont Association of Snow Travelers (VAST). Now one of the oldest snowmobiling organizations in the U.S., VAST has 127 clubs statewide, with over 24,000 members combined. The organization has worked with more than 9,000 private landowners to mark and groom trails across property many people would never have access to otherwise. The clubs, which operate a total of 104 grooming machines (similar to the snowcats you might see grooming Vermont's ski mountains), are responsible for maintaining the trails.

Thanks to their work, Vermont has nearly as many miles of groomed snowmobile trails (4,700 miles) as it does paved roads (7,000 miles).

"We are so lucky to have so many high-elevation trails here, a variety of terrain and these beautiful little villages you can ride to. Snowmobiling in Vermont is about as family-friendly as it gets," says Cindy Locke, the executive director of VAST and a former ski instructor at Stowe Mountain Resort.

Like a highway system, the VAST trails are patrolled. "We take safety really seriously," says Locke. "It's state law that you have to watch a safety video and we hire law enforcement as well as 40 safety ambassadors to patrol the trails." While snowmobiles can go 50 mph or faster, there's a speed limit of 35 mph when riding on Vermont state land.

You don't need any experience, or even a driver's license, to snowmobile in Vermont. Kids can ride along as passengers, but drivers must be 16 or older. Perhaps the best way to start out is to sign up for a guided tour.
Guided Snowmobile Tours in Vermont
Snowmobile Vermont
offers guided tours that leave Stowe every hour from 9 am to 6 pm on weekends and holidays, as long as there is sufficient snow to cover the trails. "VAST typically describes the season as Dec. 15 through April 15," says Klaus Weirether of Snowmobile Vermont. "However, we operate on natural snow, so it's really weather dependent. We usually try to open for Christmas week and run through the month of March."
Weirether, an avid skier, first tried snowmobiling in Jackson Hole, Wyoming. Soon after, he moved to
Vermont to ski
and got a chance to go snowmobiling again. He was hooked.
He now works at Snowmobile Vermont, the largest touring operation in the state with tour bases in Stowe, Plymouth (near Okemo), Killington and Woodford (near Mount Snow). "A beginner can pick up snowmobiling really quickly," he says. "It's not really about how fast you go but about being able to control your sled in the snow and to enjoy the ride and the scenery," he adds. "Like skiing, it's fun to try snowmobiling in different places."
Tours start at Snowmobile Vermont's base next to the Commodore's Inn in downtown Stowe. Plan to arrive about an hour before your tour as you will need to watch the safety video and get outfitted with a helmet that has a full-face shield and any additional gear you may need. "You want to dress as if you are going skiing," says Levins. "When you're blasting along at 30 mph, the windchill builds up." If need be, Snowmobile Vermont has a limited number of snowsuits and boots for rent.
The snowmobiles, all Polaris Indy LXT Touring sleds, come with heated handgrips for the driver.
After watching the safety video, guests and guides head to the field at the start of the trail system where the snowmobiles are waiting. "We usually have groups of four snowmobiles to one guide," says Weirether. In the field, you get to practice turning and starting and stopping the machines before heading out. "How fast you go really depends on the level of the group. Occasionally, we'll break a larger group into two or more groups if we sense there are varying levels," Weirether says.
What's unique about the trails near Stowe is that once you leave the training field, there's a chance you won't see another person or any sign of civilization for the next two hours. "You're really out in the backcountry and going to places that many people never see. Plus, in some places we groom our own trails," says Weirether. The two-hour tours usually go about 10 miles out and 10 miles back.
Explore Vermont
There are, of course, plenty of other places in Vermont you can explore by snowmobile. Some locals who have their own sleds make it a practice of riding from inn to inn, exploring the state's hidden network.
In addition to Snowmobile Vermont's three other locations, you can take an hour-long guided tour out of Proctorsville, near Okemo with
Snow-Country Snowmobile
. It also rents its Ski-Doo sleds by the half or full day.
For very different scenery head to St. Johnsbury, about an hour's drive due east of Stowe. There, Vermonters Phil and Maggie Brown have been operating
NEK Adventures
for about 20 years.
From St. Johnsbury, their NEK Adventures tours lead you on a two-hour tour on their Polaris Indy LXT touring sled into wide open countryside of Vermont's Northeast Kingdom (NEK) northeast to Kirby.
While the Green Mountains loom tall in central Vermont, the NEK features rolling hills and open farm fields. "Our tours are really about the scenery," says Maggie Brown. "We have several stops for views like the one over Willoughby Gap," she says, referring to the much-photographed fjord-like Lake Willoughby with steep mountains on either side.
"Most of our customers are first timers and we cruise along at about 25 mph," says Brown. "We usually see deer, rabbits, wild turkeys and even moose tracks. It's all remote and we rarely see another person," she says.
NEK Adventures typically books only four sleds to a group and the season is short and books up quickly. "Unlike ski areas, we don't make snow and we need a foot of natural snow on the ground as a base to operate," she says. "The best time to book? It's February," she says.
Produced in partnership with Vermont Ski + Ride Magazine.